Press release
Minister celebrates increase in Pakistani Chevening Scholars
Minister for Pakistan, Tobias Ellwood, hosted an event in honour of the Pakistani Chevening Scholars currently in the UK.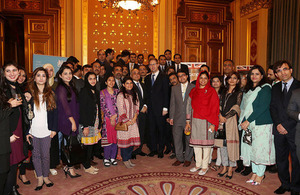 The event highlighted the special role of Chevening scholars in deepening the already strong links between the UK and Pakistan, bringing the UK and Pakistan closer together, both now and in the future.
This year sees a threefold increase in scholars and fellows to 75 who were chosen from over 3,000 applicants. This reflects the increase in demand and is a sign of the UK's commitment to Pakistan and the importance placed on education by both countries.
This year also sees the welcome return of the Chevening South Asia Journalism program which includes seven Pakistani fellows. They are currently undertaking the fellowship at the University of Westminster to build on their experience in media, journalism and communications.
On return to Pakistan the scholars and fellows will all join the Chevening Alumni Association of Pakistan, launched in 2014 to raise and discuss alumni-led solutions to various issues relating to the social, economic and the broader development of Pakistan.
Speaking at the reception, Mr Ellwood said:
I am delighted by the threefold increase in Pakistani Chevening scholars this year which reflects both our commitment to Pakistan and the high demand for world class UK higher education. These bright students play a special role in bringing the UK and Pakistan closer together. I give my best wishes to the scholars for the rest of their studies.
Further information
Chevening Scholarships are the UK government's global scholarship programme, funded by the Foreign and Commonwealth Office (FCO) and partner organisations. The scholarships are awarded to outstanding established or emerging leaders to pursue one-year Master's degrees in any subject and at any of the UK's leading universities.

Since 1983, over 1,370 Chevening Scholarships have been awarded to Pakistani citizens. They will be part of an influential global network of over 44,000 Chevening alumni spanning over 150 countries.

More information on the Chevening Scholarships can be found here: Chevening Website

Follow Foreign Office Minister Tobias Ellwood on Twitter @Tobias_Ellwood

Follow the Foreign Office on Twitter @foreignoffice
Published 2 March 2016