Minister calls on Syrian regime to implement urgently Annan plan
Minister for the Middle East and North Africa Alistair Burt has commented on the ongoing violence in Syria.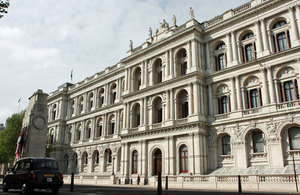 Speaking today, he said:
"The UK is deeply concerned by the reprehensible violence we continue to see perpetrated by the Assad regime in Syria. Despite the ceasefire, such violence continues at unacceptable levels, with women and children among those losing their lives. UN monitors have reported the continued presence of heavy weapons and troops in Syria's cities and that civilians speaking to them have subsequently been subjected to regime retribution. The cycle of violence in Syria is extremely worrying: today there are reports of a suicide bombing in Damascus.
"As the UN Secretary General said yesterday, the Syrian government is now in contravention of an international peace plan which was agreed unanimously in two UN Security Council Resolutions. The regime must urgently meet its obligations under these resolutions as well as implement in full Annan's six point plan, including a political transition. If the regime does not do so and Annan cannot make progress we will return to the UNSC to discuss immediate and robust action. We continue to urge the opposition to adhere to the ceasefire and also to work with Joint UN-Arab League Envoy Kofi Annan on a political transition."
Published 27 April 2012