News story
Minister calls for release of Eston Kohver in Russia
Minister for Europe calls for release of Estonian security officer, Eston Kohver, following sentencing in Russia.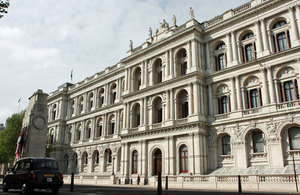 Speaking after the sentencing, Minister for Europe, David Lidington, said:
I am deeply concerned that Estonian security officer, Eston Kohver, has been sentenced to 15 years imprisonment in Russia following his abduction from Estonian territory by Russian Security Services and almost a year in illegal detention. I have repeatedly raised my concerns about the handling of Mr Kohver's case and called for his release during my meetings with the Russian Ambassador to London.

I urge Russia to release Mr. Kohver immediately, and guarantee his safe return to Estonia.
Further information
Estonian security officer Eston Kohver was illegally taken across the border from Estonia to Russia in September 2014. We have continued to call for his immediate release. 5 September 2015 will mark the one-year anniversary of his illegal detention. He has been convicted of espionage, the illicit possession and trafficking in firearms and illegal crossing of the state border.

The Minister for Europe raised the case with the Russian Ambassador in September, December, February and June. Mr Kohver's case is referenced in the rule of law section of the Annual Human Rights Report and the in-year-update.
Published 19 August 2015
Last updated 19 August 2015
+ show all updates
I have added the countries.
First published.