Press release
Minister announces record £62 million investment in cycling
£62 million investment to enable a new cycle hub, make cycling easier, safer and improve cycle-rail integration.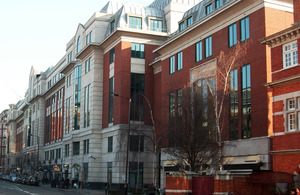 In the largest ever allocation of funding for cycling to date, Transport Minister Norman Baker has today (30 January 2013) unveiled details of a £62 million investment to make travelling on two wheels more attractive for people throughout England.
Over the last 12 months the government has announced £107 million will be made available for cycling during this Parliament. Today (30 January 2013) the government confirmed the allocation of £57 million from this:
up to 3 cities will benefit from a fund of up to £30 million to make cycling easier and safer for people in urban areas
a fund worth up to £12 million is being made available to local authorities working in partnership with National Parks to improve conditions for cyclists
a £15 million boost is being given to the Community Linking Places Fund to support schemes that improve cycle-rail integration and enhance community cycling (a full list of the schemes and breakdown of funding can be found on the GOV.UK website)
the green light is being given for funding for £550,000 of government funding to enable a new £945,000 cycle hub at Brighton station offering 500 new cycle parking spaces, cycle hire, changing facilities and a cycle repair workshop - other funding is coming from Network Rail, Brighton and Hove Council and Southern rail
In addition to the £57 million allocation, £5 million will be added to the fund already earmarked to tackle dangerous junctions, with allocations to follow in the near future.
Transport Minister Norman Baker said:
We are serious about cycling, as this latest wave of funding shows. We have already seen how schemes can quickly deliver economic and environmental benefits, as well as improving public health.

Anyone who rides a bike will know it is important to keep the impetus going and this record level of funding will provide a shot in the arm to cycling in England.

Our ambition is to get people cycling more safely and more often and today's announcements will help us to make that vision a reality.
Schemes receiving funding in this latest cash boost for cycling will include cycle hubs at Redhill, Upminster, Nottingham and Leicester stations which will see hundreds of new cycle parking places and bikes for hire plus a high quality cycle route network for Leeds city centre.
The new projects will build on the success of those previously funded by the department which have promoted links between cycling and train use and looked at local needs to make cycling easier and more attractive in communities around the country.
Most of the schemes receiving funding from the department will also receive local contributions, making the true value of the fund to cyclists considerably higher.
Related documents
Notes to editors
The funding is part of £107 million the government has announced over the last year will be invested in cycling, on top of the £600 million for the Local Sustainable Transport Fund over 4 years.
This funding is for England (minus London) only.
Those who are eligible to apply for funding are as follows:
National Parks – National Parks in partnership with their Local Highway Authority
cities – those cities that have secured wave 1 or wave 2 city deal status - wave 1 cities include Birmingham, Bristol, Leeds, Liverpool, Manchester, Newcastle, Nottingham and Sheffield, wave 2 cities will be announced shortly
Further information and bidding guidance will be published shortly. The government will announce the successful projects this summer.
The "Linking Communities" programme uses the transport charity Sustrans and the Cycle Rail Working Group to distribute DfT grant funding to local authorities and train operating companies, including advice on prospective schemes (prior to recommendation to DfT Ministers). This is similar to the process used by DfT over the last 7 years for the Links to Schools programme. Sustrans have unique experience in the design and delivery of small-scale walking and cycling links within communities, working with local authorities and other local partners. This includes engineering and organisational expertise, and the benefits of existing local relationships.
News desk enquiries
Media enquiries 020 7944 3021
Out of hours media enquiries 020 7944 4292
Switchboard 0300 330 3000
Published 30 January 2013