Minister Alistair Burt meets Noam Shalit
Minister visits father of kidnapped Israeli soldier and reiterates UK's demand for Gilad's immediate and unconditional release.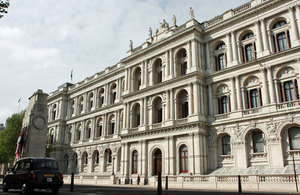 Alistair Burt with Noam Shalit
Minister for the Middle East Alistair Burt met this morning with Noam Shalit, father of kidnapped Israeli soldier Gilad Shalit, at the family's protest tent in Jerusalem. The family marked five years since Gilad was kidnapped by Palestinian Militants in a cross-border raid near Kerem Shalom on 25 June.
Noam Shalit told Minister Burt that Hamas was ignoring all requests for access to Gilad, and flouting international law. Noam Shalit also expressed his concern over the recent Hamas-Fatah reconciliation deal as well as what the possible UN recognition of a Palestinian state in September could mean for the fate of his son. He asked the Minister if the UK could take a more active role and exert indirect pressure on Hamas and other key countries in the Middle East to help bring Gilad home.
Minister Burt assured Noam Shalit that Britain will continue to do everything it can to secure Gilad's immediate and unconditional release. "Our position on Hamas remains very clear," Minister Burt told Noam, "we don't have any dealings with it [and] we will maintain our position on Hamas." On the issue of the Hamas-Fatah deal, he said "we will judge any government on its record. We will expect it to adhere to non-violence and recognition of previous agreements. We are a long way from seeing what this deal will actually mean," the Minister noted. He also said he would raise the matter during his meeting with Palestinian Prime Minister Salam Fayyad.
Speaking to the press after the meeting, Minister Burt said: "The UK's position is uncompromisingly that we want to see [Gilad] released immediately. We raise his case constantly. Gilad's name is mentioned almost every month in the House of Commons. The conditions in which he is being held are unacceptable. If there's any opportunity we can take, we will do so," he promised.
Published 1 July 2011