News story
Minister Adams honours courageous Armed Forces at his first official engagement in Wales.
Minister attends opening of Field of Remembrance in Cardiff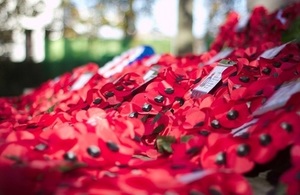 At his first official engagement as UK Government Minister for Wales, Nigel Adams will mark the bravery and commitment of our servicemen and women, past and present at the opening of the Welsh National Field of Remembrance at Cardiff Castle today (Wednesday 7 November).
Paying tribute to those who have fought and continue to do so, Mr. Adams will deliver a reading and plant a wooden cross bearing his own personal tribute to those who have made the ultimate sacrifice.
UK Government Minister for Wales, Nigel Adams said:
In this centenary year it is more important than ever that we pause to think of every man and woman who has lived, fought and died defending our freedom. That is why I urge people from communities all over Wales to come together at this significant time of remembrance to ensure that the sacrifices made by our servicemen and women, and continue to make, are not forgotten.

"It is with great honour that I pay my personal tributes to those courageous men and women who have pledged their lives to the service of our country today, your commitment and bravery does not go unnoticed."
Published 7 November 2018