Press release
Million new ESA claimants found fit for work
Latest analysis shows almost a million people who applied for sickness benefit have instead been found fit for work.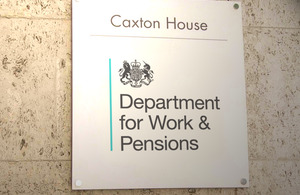 Almost a million people who applied for sickness benefit have instead been found fit for work, new government analysis reveals today (27 January 2014).
A third (32%) of all new claimants for Employment and Support Allowance (ESA) were assessed as being fit to work and capable of employment between October 2008 and March 2013 – totalling 980,400 people.
More than a million others withdrew their claims before reaching a face-to-face assessment – this can be due to individuals recovering and either returning to work, or claiming a benefit more appropriate to their situation.
Reforming the benefits system is a key part of the government's long-term economic plan to build a stronger economy and secure a better future for Britain. ESA ensures support is provided for those unable to work, while those declared fit are given help to find employment.
Under the old system, 2.6 million people were receiving incapacity benefits when ESA was introduced in 2008. In August 2010, 900,000 had been claiming the sickness benefit for more than a decade.
Minister of State for Disabled People Mike Penning said:
As part of the government's long-term economic plan, it is only fair that we look at whether people can do some kind of work with the right support – rather than just writing them off on long-term sickness benefits, as has happened in the past.

With the right support, many people with an illness, health condition or disability can still fulfil their aspiration to get or stay in work, allowing them to provide for themselves and their family.
A further 467,400 new claimants were awarded ESA over this time, but assessed as being able to work in the future with targeted and extra support.
The employment rate for disabled people has increased gradually over the years to 45%. Now, as part of the government's long-term economic plan, a disability employment roadshow is rolling out across the UK, to encourage more employers to hire disabled people.
Disability Confident is a 2-year campaign, backed by celebrities including Paralympic gold-medallist Sophie Christiansen, entrepreneur Sir Stelios Haji-Ioannou, TV presenter Ade Adeptian and Falklands War veteran Simon Weston.
Designed to showcase the talents of disabled people and highlight their tremendous value to the British economy, it's supported by major employers such as Sainsbury's, KPMG, Barclays, Honda and Asda.
A decision on whether someone is well enough to work is taken by DWP decision makers based on all of the available evidence. Many claimants will be assessed by an independent health professional as part of the process. All the supporting medical evidence from GPs and specialists is taken into account.
More information
Employment and Support Allowance is an income replacement benefit provided to people of working-age who are too ill to work because of a health condition or disability. 2.49 million people were on ESA and old-style incapacity benefits as of May 2013.
Employment and Support Allowance replaced Incapacity Benefit, Income Support and Severe Disablement Allowance for new claimants from October 2008.
2.1m people were on Incapacity Benefit, with 900,000 people spending a decade on the benefit at August 2010.
Since 2010, the Work Capability Assessment (WCA) has been improved through a series of independent reviews and by working with medical experts and charities to make it fairer and more accurate.
The WCA assessment criteria doesn't just look at physical conditions, it also looks at mental and cognitive conditions.
Read the latest ESA statistics
Contact Press Office
Press Office
Caxton House
Tothill Street
London
SW1H 9NA
London Press Office (national media and London area enquiries only – not questions about personal claims) 020 3267 5144
Out-of-hours (journalists only) 076 59 108 883
England and Wales (local media enquiries) 029 20 586 then 097 or 098 or 099
Scotland (local media enquiries) 0131 310 1122
Follow DWP on:
Published 27 January 2014