News story
Millie Banerjee appointed interim chair of College of Policing
Home Secretary approves appointment to replace former chair, Dame Shirley Pearce.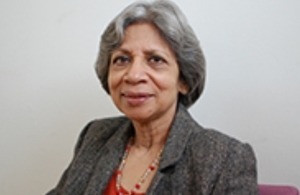 Millie Banerjee has been appointed as the interim chair of the College of Policing following approval from the Home Secretary and the College of Policing board.
Ms Banerjee, who sits on the college board, takes on the role from Dame Shirley Pearce whose term ended in October. She will remain in post while a permanent chair is recruited.
Home Secretary Amber Rudd said:
Millie Banerjee's experience and knowledge of the college board will be of great value to the college over the coming months, and will help to maintain pace and momentum for its hugely important work.
Ms Banerjee has had a long and varied career in the private and public sectors. She spent 25 years with BT in senior operations and customer service roles and culminating as the director of BT Products and Services, following which she was the COO at ICO Global Communications. She is currently the chair of Working Links. She is also a board member of East London Foundation Trust. She has held several non-executive appointments, including a non-executive director of the Cabinet Office, Channel 4, the Prisons Board, the Peabody Trust and Ofcom. She was also the chair of Postwatch, the postal regulator Postcomm and the Carnegie UK Trust, and has just concluded a 7 year period as the chair of British Transport Police.
Ms Banerjee said:
I am very honoured to be asked to fulfil the role of the interim chair of the College of Policing. The college has an ambitious agenda and I am looking forward to working with the board and the executive team to continue with the momentum achieved by my predecessor to ensure that we build a strong and effective membership organisation.
The college will now re-open its search for a high quality candidate to join its leadership team following an initial recruitment process, which did not lead to the appointment of a new chair.
Published 25 November 2016