Middlesex flag flies above Whitehall to mark Middlesex Day
The flag representing the county of Middlesex has been hoisted above the department's offices to mark Middlesex Day.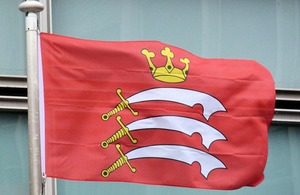 To celebrate the important place counties play in the nation's cultural heritage Secretary of State Eric Pickles has asked that English county standards be flown alongside the Union Flag outside DCLG's Eland House headquarters in Victoria.
Flags are being flown for a week at a time in alphabetical order or - in cases such as Cornwall and Yorkshire - to coincide with particular county days.
This year is particularly significant in that the Middlesex Regiment's battle at Albuhera took place on 16 May 1811 and this week marks the 200th anniversary of one of the bravest acts of chivalry and courage ever witnessed by a regiment of the British army when 'The Diehards' took on and held back the might of Napoleon in the Peninsula Wars. This is why 16 May was chosen as Middlesex Day.
Eric Pickles said:
England's counties continue to form an important part of our cultural and local identity in this country and many people remain deeply attached to their home county. This sense of pride and shared identity is one of the things that binds communities together.

Middlesex retains its place in people's memories and affections, despite attempts to wipe it off the map. The historic English counties are 1 of the oldest forms of local government in western Europe. Their roots run deep. And no amount of administrative reshuffling can delete these longstanding and cherished local identities.
John Randall MP said:
I am absolutely delighted that the Department of Communities and Local Government has been recognising our historic British counties. For those of us fortunate to be from Middlesex to see our county flag flying bravely on Middlesex Day from a government building is a great moment. This will show that although the county is no longer an administrative county it is very much still a part of our nation. We can celebrate too the exploits of those brave men who fought 200 years ago at the Battle of Albuhera and our flag will help to keep their proud memory and our county's history alive for future generations.
Middlesex county campaigner and author of 'The Real Counties of Great Britain', Russell Grant said:
Middlesex was first founded in Saxon documentation in 704 AD in a geographical description of Twickenham as being in Middlesex. Since local government counties were only created in 1889, it is a pity that over a thousand years of local heritage and national history of our counties, such as Middlesex, is lost because of a lack of a short-lived County Council. Of course, the County of Middlesex - an entirely separate and different entity - continues to exist as it has done for 1,300 years but the lack of understanding of modern media and by-passing of local history in our schools has created an historical and geographical vacuum. We hope, in time, our government will right the wrongs of previous administrations by protecting the identity and integrity of our counties that are at the very fabric of our English nationhood.
Further information
The Middlesex flag has been kindly loaned by the Association of British Counties at no charge.
More information on Middlesex can be found on the Middlesex Federation website
Photographs of the county flags will be added to the DCLG Flickr channel
Published 16 May 2011