Middle East: Time to restart talks
British Ambassador to Israel Matthew Gould said the "only route to peace is through negotiations" ahead of Israeli Prime Minister Netanyahu's visit to London.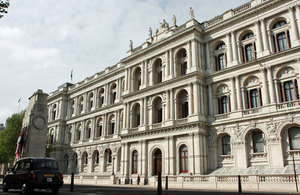 Six months is a long time in the Middle East. Since my arrival in September as Britain's ambassador to Israel, there have been some enormous upheavals in this region. Recent weeks have seen a return of horrendous violence, including a shower of rocket attacks in southern Israel, and horrific attacks in Itamar and Jerusalem.
One of the messages I have repeatedly heard here is that the international community does not understand Israel's security concerns. So one of my key priorities is to ensure that Britain does understand those concerns, to make it clear to Israel that the British government is unwavering in its support of Israel, and to explain why we are convinced that progress is needed on the Peace Process. Prime Ministers David Cameron and Benjamin Netanyahu will meet in London this week to discuss this.
To be a true friend of Israel, we need to understand the extraordinary security challenges that Israel faces. As Israel gets ready to celebrate 63 years of Independence, we share the hope of the vast majority of Israelis for a lasting, definitive peace with the Palestinians. But we realize that the Israeli people will move towards peace only when they believe that such a peace will make them more secure, not less.
The turmoil in the region understandably makes Israelis more nervous of doing a deal with governments that might not be around in a few months time. It is a natural response to say that now is not the time for peace. But the alternative to making peace now is for Israel to have its place in the new Middle East defined by the continuing existence of the conflict. That creates a risk that in each country, the politics sets with maximum hostility to Israel, rather than giving the new leaders of these countries strong grounds to support the pursuit of peace. And without progress towards peace the risk of instability in Jordan would increase.
Any peace will need Israel to have the right security arrangements to give confidence despite the shifting regional sands. The creation of a Palestinian state must not lead to rockets raining down on Israel from the hills of the West Bank. It must not repeat Gaza, when withdrawal was followed by the Hamas take-over and years of rocket attacks. We need to have an open discussion about the security arrangements - how they can provide the confidence Israel needs, without undermining the sovereignty that the Palestinian state needs.
We know that one element will be having Palestinian security forces capable of fighting terrorism themselves. That is why we continue to invest millions every year in improving those capabilities. This is already making a difference.
In my short time in Israel I have already been to too many funerals and laid too many wreaths. As the Ambassador of a country that wants Israel to have the security its citizens crave, I want to see the peace talks get moving. And I want to see Israel drive those talks, taking the initiative to reach the peace that its people want.
There are no short cuts. The only route to peace is through negotiations. There is no international solution which obviates the need for the two parties to agree a deal between themselves. It needs the two sides to get back into talks, based on clear parameters supported by the international community. This won't be easy. But I do believe a peace deal is still possible, and I am certain that it is the only way that Israel can find the lasting security it deserves.
Published 4 May 2011