Middle East Peace Process and the UN: Moving towards a two state solution
Foreign Secretary William Hague said that the best outcome in New York this week would be for the Palestinians and Israelis to agree to return to direct negotiations.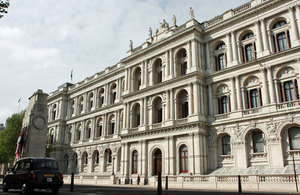 Speaking from the UN General Assembly in New York the Foreign Secretary said:
"What we want to see is negotiations that bring about a Palestinian state, the so called two state solution of Israel being able to live in peace and security but a viable Palestinian state alongside it. That has been the goal of British policy for a long time. So the best outcome of all the negotiations and discussions taking place here in New York this week would be if Palestinians and Israelis agreed to go back in to negotiations together."
"We along with all the other twenty six countries of the European Union have withheld our position on how we would vote on any resolution that may come forward in the General Assembly in order to exert as much pressure on both sides to return to negotiations. That is the only real way forward."
The Foreign Secretary noted that "the Palestinians haven't yet said exactly what they will put forward", but commented that submitting a letter to the Security Council seeking full membership of the United Nations was "not a course of action that we recommend because it will just lead to confrontation" and "such a move in the Security Council would clearly be vetoed by the United States".
"It's not clear how many of the members of the Security Council would support it but it would leave no one any further forward. Now there are other options for the Palestinians, other motions they can put forward in the General Assembly best of all, as I say, an agreement to return to negotiations with the Israelis, with the Israelis agreeing to that as well. And that is what we will be putting pressure on both sides to do.
"I'll be meeting President Abbas here in New York tomorrow and all the pressure we're exerting will be in that direction of returning to negotiations to find a two state solution to allow a Palestinian state truly to come in to being."
The Foreign Secretary said that there needed to remain a degree of optimism about the Middle East Peace Process:
"It is a problem which my predecessors and many British Prime Ministers, many American Presidents have worked on extremely hard without as yet success. So clearly it is one of the most vexing, one of the most intricate, one of the most difficult problems in international affairs.
"But its importance is enormous, the consequences of failing to arrive at a two state solution could be catastrophic for the Middle East and the wider world so we have to keep trying and we have to retain enough optimism that it is possible to succeed. We'll be fully engaged in that here in New York meeting Israelis and meeting the Palestinians.
I'm about to go and discuss with Tony Blair who is the so called Quartet representative about how his part in these things are going. We will continue to push this forward in any way we can now and in the future."
Published 19 September 2011