Middle East Minister concludes Iraq visit
Alistair Burt, Middle East Minister concludes his three day visit to Iraq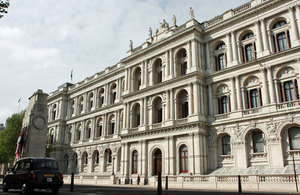 British Minister of State for Middle Eastern Affairs, Alastair Burt left Iraq today following a three day visit to Basra and Baghdad. During the visit, he met a range of Iraqi political leaders, including Prime Minister Nouri al-Maliki, Deputy Prime Minister Hussayn Shahristani, Deputy Minister Rosch Schways and Foreign Minister Hoshyer Zebari. The Minister discussed regional and internal political developments. The visit also focused on the business climate, and ways of strengthening bilateral trade and inward investment.
Mr Burt spoke at the Basra Investment Conference, hosted by the Iraqi British Business Council, and met with the Governor who spoke about his aspirations to achieve Basra's further development, encouraging UK businesses to engage in range of sectors beyond oil and gas, including housing.
Speaking just before his departure from Baghdad, Mr Burt said:
"I would like to thank Prime Minister Maliki and my other Iraqi hosts in Baghdad and Basra for their generous hospitality during this visit. I was also honoured to host Speaker Nujaifi and members of the Council of Representatives last week in London. Together with my visit last November these contacts have given me a deeper understanding of the challenges facing Iraq and ways in which the UK might be able to assist further.
The UK remains committed to Iraq and it is in our interest to see the country succeed. We will continue to offer whatever assistance and support we can. We have this week revised our travel advice to reflect an improving security environment and to show that steps can be taken to mitigate the risks of operating in Iraq. We recognise the challenges of doing business here, but I have been encouraged by the clear message from the Prime Minister and his government that they will do their utmost to facilitate a better business climate.
At this time of great change in the region, it is clear that Iraq is considerably ahead of many countries in the Arab world in terms of democracy and personal freedom. The country has an inclusive government, a largely open press, and political institutions that should serve as models for people across the Middle East. The foundations for a bright future are strong.
Iraq has enormous potential. Realising it will require all of Iraq's leaders to put aside their personal and political differences, and work together for the benefit of Iraq as a whole. Compromise is key, and moving decisively away from the politics of patronage will strengthen the economy and avoid the problems of poverty and unfulfilled potential that have generated so much anger in other parts of the region."
Search the news archive
Published 19 October 2011