News story
Michael Gove joins the Prime Minister's Holocaust Commission
Education Secretary Michael Gove joins Commission to investigate commemorative activity, educational and research resources.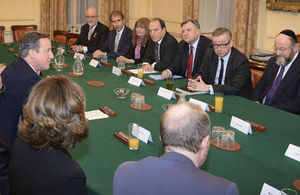 On Monday evening 27 January 2014, Secretary of State for Education Michael Gove joined the Prime Minister and Holocaust survivors at a reception at No10 Downing Street to launch the independent Holocaust Commission.
Michael Gove was honoured to be asked to sit on the Commission alongside leaders in commemoration, business, academia, philanthropy, religion and survivors themselves.
The Commission will investigate what further measures should be taken to ensure Britain has a permanent and fitting memorial to the Holocaust, along with the right educational and research resources for future generations.
The Secretary of State believes that it is incredibly important that the next generation keeps learning the lessons from the Holocaust and urges everyone to share their views with the Commission.
For further information on the work and members of the Commission or to share your views with the Commission, please visit the Holocaust Commission consultation.
Published 29 January 2014