News story
MHRA symposia: good manufacturing practice (GMP) and good distribution practice (GDP)
December 2015 and January 2016: Tickets are now available for the GMP and GDP symposia held in London and Glasgow.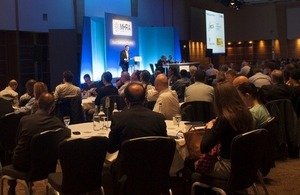 Join the conversation on Twitter #GMDPevents.
About the event
The good manufacturing and good distribution practice (GMDP) events are ideal for professionals working in quality control and quality assurance, regulatory affairs and compliance, within the manufacture and distribution of medicines. The GDP event is also suitable for small, medium or large wholesalers and would benefit managers and key staff involved in procuring, supplying, exporting and storing medicines, including responsible persons.
See the Inspectorate blog for more information on GMDP as well as details of previous symposiums.
At the events you can:
gain greater knowledge of the quality issues affecting your organisation
learn more about the quality person and responsible person roles to make your role easier and save your company money and resources
recognise commonly seen GMP/GDP deficiencies and learn how to improve compliance in your organisation
receive guidance on changing legislation and increasing complexity in the manufacturing and distribution chain
use it as an opportunity to share concerns and learn directly from MHRA
discover what your peers are doing through managed workshops
network with like-minded professionals
meet the experts while participating break-out sessions with key speakers
Details
All MHRA events are CPD accredited.
GMDP symposiums in London
GDP symposium: Tuesday 8 December 2015 repeated on Thursday 10 December 2015
GMP symposium: Wednesday 9 December 2015 repeated on Friday 11 December 2015
The London Novotel West
1 Shortlands
Hammersmith International Centre
Hammersmith, London
W6 8DR

Cost
Early-bird tickets (GDP or GMP single day ticket) £495.00 + VAT
Early-bird tickets (GDP and GMP combination ticket) £795.00 + VAT
GDP symposium in Glasgow
The content presented at the GDP symposium in London will be repeated in Glasgow on Tuesday 12 January 2016.
Hilton Glasgow
1 William Street, Glasgow
G3 8HT
United Kingdom

Social media
Published 15 July 2015
Last updated 8 September 2015
+ show all updates
Tickets are now available for the GMDP symposia in London and GDP symposium in Glasgow, book now as spaces fill up fast.
First published.