News story
MHRA Annual Lecture 2015: book now
There are still a limited number of spaces available at our Annual Lecture 2015.
This news article was withdrawn on
This event has taken place.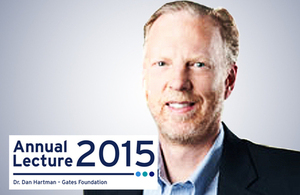 Details
Date
Wednesday 25 March 2015
Time
Doors will open from 5:30pm for registration and the lecture will begin at 6:00pm. Debate and discussion will continue at the optional drinks reception which will follow.
Location
One Wimpole Street
London

Book your place to avoid disappointment. Spaces are limited and are available at no cost.
To confirm your place, email annuallecture@mhra.gsi.gov.uk with details of your organisation, job title and business email. Booking closes on Monday 23 March 2015 at 9am.
About the event
This year's lecture will be delivered by Dr Dan Hartman, Director of Integrated Development, Gates Foundation – a leading philanthropy organisation set up by Bill and Melinda Gates.
Dr Hartman will talk about the aims of the Gates Foundation and how they face up to tough challenges. Learn about their work to promote and protect public health in the developing world.
Understand more about the role of global regulation in the future and discover how learning is being transferred and shared around the globe.
Join us at this must-attend annual event which offers you the opportunity to hear about real-world examples of global health issues, what's being done to tackle them and how your work makes an impact, as well as the chance to network with like-minded peers.
Published 12 March 2015
Last updated 20 March 2015
+ show all updates
Please note change in closing date.
First published.