World news story
Message from Her Majesty's Ambassador Miss Thorda Abbott-Watt
A message from Miss Thorda Abbott-Watt, following her appointment as Her Majesty´s Ambassador to Turkmenistan.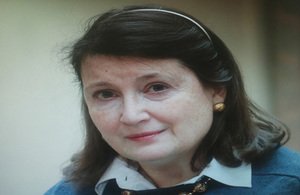 Turkmenistan lies at the heart of Central Asia, a region rich in culture and history, and a fascinating place to live and work. The United Kingdom's bilateral relationship with Turkmenistan is growing in importance. A country of six million inhabitants, located on the eastern shore of the Caspian Sea and with long borders with Afghanistan and Iran, Turkmenistan has a key strategic role to play in regional security. The Turkmen Government have in particular played a helpful role in providing humanitarian and other assistance to Afghanistan. With the world's fourth largest reserves of natural gas, Turkmenistan is also potentially pivotal to energy security in the region and beyond.
The development of Turkmenistan's hydrocarbons sector and the country's wider industrial diversification programme present opportunities for British companies with experience and expertise in a wide range of sectors, in particular infrastructure, education and sports-related fields. Turkmenistan will host the Fifth Asian Indoor and Martial Arts Games (AIMAG) in September. A leading British company is working on the delivery of the games, and we believe that there will be further opportunities for British companies to contribute to their success and to their legacy before, during and after the event. Those interested in doing business here are warmly invited to contact the Head of UK Trade at the British Embassy.
The Turkmenistan-UK Trade & Industry Council (TUKTIC) also brings together British companies doing business in Turkmenistan, their Turkmen counterparts and senior members of both Governments. It meets at approximately yearly intervals, alternately in London and Ashgabat. Those interested in participating are invited to contact the Chairman, Ronald Nash.
Companies may also like to contact CATBIG, a business-to-business network for UK-based companies working in Central Asia, run under the auspices of British Expertise. British Expertise is a private sector organisation which works closely with the Embassy and the Department for International Trade in London and, through CATBIG, hosts periodic events focussed on Turkmenistan and other countries in the region.
The Embassy is equally engaged in encouraging progress on the development of international standards of human rights, democracy and good governance in Turkmenistan. The Embassy sponsors human rights-focussed projects implemented by locally registered NGOs and international organisations based here, and, in company with like-minded partners, maintains a dialogue with the Turkmen authorities on matters of concern.
I am fortunate to have arrived in Ashgabat at the start of a year when Turkmenistan will host AIMAG, an event of international standing which will raise Turkmenistan's profile in the region and beyond. I look forward to enhanced opportunities for our two countries to work together.
Published 22 December 2016