News story
Mental health support in defence
Today, 10 October, is World Mental Health Day, which raises public awareness and promotes open discussion about mental health.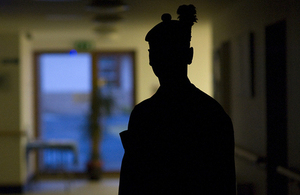 The Ministry of Defence is committed to supporting personnel, their families and veterans who have been affected by mental health issues. For those serving in the armed forces (including mobilised reservists), MOD has worked hard to improve patient care.
It runs 16 Departments of Community Mental Health around the country where mental healthcare professionals provide support and treatment to personnel from all 3 services.
Mental health professionals are also deployed to the front line during operations where they are able to spot the first signs of a problem and take steps to treat it. Stress management and mental health awareness has been built into all levels of training and leadership in the armed forces.
The removal of stigma is crucial. Through initiatives like the 'Don't Bottle it Up' campaign, awareness of the professional medical care and support available to personnel is increasing within the military.
The Reserves Mental Health Programme, run in partnership with the NHS, is open to all current or former members of the reserves, who have been demobilised since 1 January 2003, following operational deployment overseas and who believe that their deployment may have affected their mental health.
The NHS is responsible for delivering healthcare for the families of those serving and veterans.
Mental healthcare is a multi-agency delivery effort and MOD and the Department of Health are working with the NHS and service charities, including Combat Stress, to promote awareness of veteran and service family issues.
Help for Heroes received £2.7 million of Libor funding in 2013 to work in partnership with Combat Stress to develop the 'Hidden Wounds' psychological support programme to support veterans and their families who are suffering from the early symptoms of mental injuries such as stress and depression.
Additional support available also includes a Combat Stress 24-hour helpline, e-learning packages for GPs, the Big White Wall, an online service providing help 24/7, and a mental health support app.
The armed forces covenant states that the armed forces community should enjoy the same standard of, and access to, healthcare, including mental healthcare, as that received by any other UK citizen in the area they live.
MOD has published information leaflets aimed at veterans, serving personnel and their families outlining how the covenant can help them. If members of the armed forces community feel they have been disadvantaged accessing public services these leaflets will help to identify where to go to address the problem.
Visit the MOD's mental health services webpage for more information about the mental health support available and visit the World Mental Health Day website for more information on the day itself.
Published 10 October 2014