News story
Mental health awareness app for veterans
A free, unique mental health awareness app is available for armed forces veterans to download.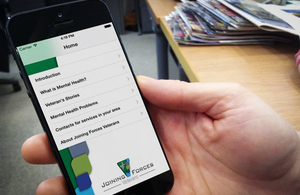 Following the successful launch of the innovative Joining Forces mental health awareness app for serving military personnel, a similar app is now also available for veterans.
The Veterans Mental Heath app includes help and guidance on key mental conditions, much like the Joining Forces app.
It also features videos of veterans telling their own stories. One veteran who has used the app said:
It really helped me to know I am not alone.
This week is Mental Health Awareness Week, so there is no better time for armed forces personnel and veterans to download the apps for free on Apple or Android devices to receive guidance and identify with those in similar situations.
The Ministry of Defence is committed to providing access to mental health services to members of the armed forces, their families and veterans.
This includes access to the Combat Stress 24-hour helpline, e-learning packages for GPs, and the Big White Wall, an online service providing help 24/7.
Published 12 May 2014