News story
Membership of Maritime Growth Study Advisory Group announced
Expert panel to feed into UK's first maritime growth study.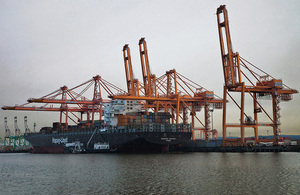 The membership of an industry-led advisory body formed to maintain Britain's place at the forefront of the global maritime sector was announced by Transport Secretary Patrick McLoughlin today (Friday 30 January).
The group will bring their insight to the very first maritime growth study, launched last year to ensure that the UK remains a world-class seafaring nation by identifying opportunities for growth. Members of the advisory group will utilise their expert knowledge and experience to help shape the conclusions of this study, and advise the chair, Jeffrey Evans.
Transport Secretary Patrick McLoughlin said:
The maritime sector directly contributes nearly £14 billion to our economy every year and supports more than a quarter of a million jobs.

The collective expertise of this advisory group will help us identify areas of potential growth to ensure the UK retains its reputation as a world leader in this industry.
The group will be chaired by Michael Parker who has more than 40 years' experience in the shipping industry, including a tenure as president of the Chamber of Shipping.
Mr Parker said:
I am delighted to be leading this advisory group in support of the maritime growth study.

The group will comprise a wide range of industry leaders who will be able to provide the chair of the study, Jeffrey Evans, and his secretariat with crucial industry insight as the study develops. I will convene the first meeting of the advisory group over the coming weeks and would like to thank all of the members for agreeing to participate in this important project.
The group encompasses a broad range of carefully chosen experts. The 8 members of the group are:
Michael Parker. Michael is the chairman of CMA CGM Holdings (UK) Ltd and its UK subsidiary MacAndrews & Co Ltd. He has been involved in the shipping industry for more than 40 years including a tenure as president of the Chamber of Shipping and is a member of the General Committee of Lloyd's Register and the London Committee of Class NK.
Haralambos (Harry) Fafalios. Harry has worked as a Baltic shipbroker in the family business Fafalios Ltd for over 30 years. He currently sits on various industry bodies and has served as the chairman of the Greek Shipping Co-operation Committee since 2010.
John Denholm. John is a qualified chartered accountant who joined J & J Denholm in 1980 and is now head of the company. He is currently president of BIMCO.
Tom Boardley. Tom joined Lloyd's Register (LR) in 2009 as marine director with responsibility for worldwide marine operations as well as strategy and business development. Prior to joining LR, Tom held several senior management roles within the container shipping and ports industries.
Robin Mortimer. Robin joined the Port of London Authority as chief executive officer on 31 March 2014 having worked in the UK Civil Service from 1994. He joined Defra in 2004 and directed several major projects including the Government's Major Infrastructure and Environment Unit.
Mark Rawson. Mark has been a manager with ship management company Zodiac Maritime for 14 years with particular experience in dealing with flag state administrations. He is a fellow of the Nautical Institute, a member of the Institute of Chartered Shipbrokers and a Master Mariner.
Lambros Varnavides. Lambros is the vice chairman of the Baltic Exchange. He recently retired from his position as managing director of Shipping at RBS having held that position since 1998 to concentrate on charity roles and academia. He joined Williams & Glyns in 1974 and moved with them when they were subsumed into RBS in 1985.
Richard Stephens. Richard is a tax partner at Watson Farley & Williams. He advises shipping groups on joining and operating within the UK's tonnage tax regime, and acts for banks and borrowers in ship finance matters. He is also a member of the Chamber of Shipping's Tax and Economic Committee.
The group will be required to take an impartial and independent view and focus on what delivers maximum benefit for the UK. The first meeting of the group will be held shortly and the maritime growth study will report on its findings in summer 2015.
Maritime media enquiries
Media enquiries 020 7944 3021
Out of hours media enquiries 020 7944 4292
Switchboard 0300 330 3000
Published 30 January 2015