Members of the Armed Forces to receive new medal
Members of the Armed Forces will be presented with a medal to mark Her Majesty The Queen's Diamond Jubilee on 6 February 2012.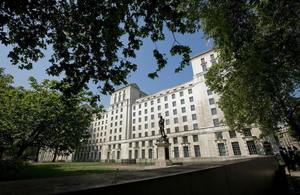 The design of the medal and details of who will receive one were announced by Culture Secretary Jeremy Hunt today, Tuesday 28 June 2011.
The commemorative medal designed to mark the Queen's 60 years on the throne will be awarded to members of the emergency services, Prison Service and the following Armed Forces personnel:
members of the Armed Forces (Regular and Reserves) who have completed five full calendar years of service on 6 February 2012
living holders of the Victoria Cross and George Cross
members of the Royal Household.
The MOD will issue detailed qualifying criteria applying to their personnel later this summer. The one-off medal is made of nickel silver and designed by Timothy Noad, a professional calligrapher and illuminator.
The medal depicts a formal image of the Queen on one side, while the reverse shows a hexagon with a crown and royal cipher, inscribed '1952 to 2012', commemorating Her Majesty's reign, and finished off with a red ribbon and white/blue stripes.
Secretary of State for Defence, Dr Liam Fox, said:
As Defence Secretary, I see the unique nature of the service our Armed Forces give their Queen and country every day.
"They represent the very best of Britain, selflessly defending our nation and its interests, both at home and abroad, and this announcement of a Diamond Jubilee Medal for our Armed Forces gives us all the opportunity to celebrate both the Queen's service to the country over the last 60 years and the service of our Armed Forces in her name."
The Chief of the Defence Staff, General Sir David Richards, said:
I know that our Armed Forces will be delighted they will be awarded a Diamond Jubilee Medal, both to celebrate the Queen's reign and in recognition of the enduring sacrifice our personnel make for our country.
"This medal recognises the important and difficult job our Armed Forces have carried out defending our nation and its interests, both at home and abroad, and it is a fitting tribute to their dedication and professionalism."
Published 28 June 2011