World news story
Member of the British Parliament finished her visit to Uzbekistan
Member of the British House of Lords CBE Baroness Vivien Stern paid an official visit to Uzbekistan from 19 to 21 October 2016.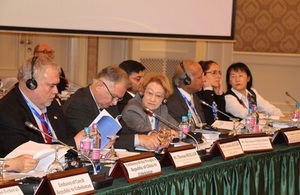 The purpose of the Baroness's visit was to share the UK best practice on the interaction of national human rights institutions with the Parliament and discuss practical ways to further enhance the already good relations that exist between the parliaments of the United Kingdom and the Republic of Uzbekistan.
During her visit Baroness Stern met with Deputy Minister of Interior of the Republic of Uzbekistan Mr Sayfullo Nurmatov; Deputy Minister of Justice Mr Anvar Usmanov; Deputy Prosecutor General Mr Sh.Matiev; Director of the National Human Rights Centre Dr. Akmal Saidov and Authorized Person of the Oliy Majlis of the Republic of Uzbekistan for Human Rights (Ombudsman) Mr. Ulugbek Mukhammadiev and Deputy Chairman of the Senate of Oliy Majlis Ms. Svetlana Artikova.
She also attended the International Conference dedicated to the 20th anniversary of establishment of the National Human Rights Institutions of Uzbekistan and delivered a guest-lecture at Tashkent State University of Law. Baroness Stern also handed over 500 copies of the second edition of "The Torture Reporting Handbook", published by Essex University, which was translated into Uzbek and printed by the British Embassy in Tashkent.
Published 28 October 2016