Meet the Foreign Secretary
The Foreign Secretary has selected five of his twitter followers to meet him for a discussion about foreign policy at the Foreign Office.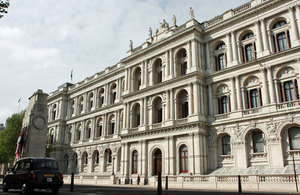 To mark his 100,000th follower on twitter, the Foreign Secretary invited his followers to send a tweet including the hashtag #meetFS, and say:
what idea, innovation or trend you think will have the greatest impact on our world over the next 20 years or:
what you believe the Foreign Office's priorities should be over the next year.
You can find more details on the Foreign Secretary's twitter account @williamjhague
Here were some of the responses:
[View the story "#meetFS " on Storify]
The competition has now closed.
The event will take place on 2 October at 1600 BST, and includes a tour of the historic Foreign Office building.
Published 21 September 2012