Press release
Medicines watchdog makes record seizure of experimental smart drugs
The Medicines and Healthcare products Regulatory Agency (MHRA) announced the UK's biggest seizure of smart drugs, also known as cognitive enhancers or nootropics.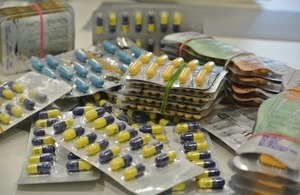 The Medicines and Healthcare products Regulatory Agency (MHRA) today announced the UK's biggest ever single seizure of smart drugs, also known as cognitive enhancers or nootropics. With over 20,000 units, of 13 different types of cognitive enhancement medicines. The seizure represents an approximate value of £200,000.
The raid saw seizures of a large range of cognitive enhancers including noopept, phenylpiracetam, centrophenoxine, oxiracetam, sunifiram, citicoline and aniracetam, and illustrated the burgeoning demand and variety of new active substances entering the marketplace. The seizure also highlighted concerns around the increasing experimentation amongst users. One of the products seized, Sunifiram has never been tested or been subject to clinical trials involving humans.
The seizure came following intelligence from the Norwegian Medicines Agency after a number of packages were detained by Norwegian customs. A full investigation was initiated after a UK source was identified and found to be selling the unlicensed Russian cognitive enhancement drug phenylpiracetam. This raid represents a concerted effort to crack down on the growing trend of unlicensed online smart drug retailers.
While it is not illegal to possess these medicines, sale and supply of a prescription only or unlicensed medicine is an offence in this country.
With a growing number of people discussing and experimenting with the use of these products MHRA is warning people on the potential dangers of buying medicines online. A huge number of medicines bought online are counterfeit, substandard or adulterated. While reports of side-effects of some cognitive enhancers include a risk of dependence, cardiovascular problems and psychosis there is no guarantee the product you are receiving isn't laced with any number of other dangerous substances.
MHRA Head of Enforcement, Alastair Jeffrey said:
This is a recent and very worrying trend. The idea that people are willing to put their overall health at risk in order to attempt to get an intellectual edge over others is deeply troubling.

The fact of the matter is that if you are acquiring medicines over the internet without a prescription then you are purchasing from an unknown, unregulated and ultimately an unlawful source that has one objective – to take your money".
Professor of Clinical Neuropsychology at the Department of Psychiatry, University of Cambridge School of Clinical Medicine, Barbara Sahakian said:
I am extremely concerned that young people are accessing these cognitive enhancing drugs via the internet, which is very unsafe as it is unclear what the drug sent actually contains.

There are also no long-term safety studies of the effects of these cognitive enhancing drugs in healthy people. Healthy people are using these drugs without consultation from a doctor.

These may be counter-indicated for them, either because they are on other medications which may interact with these drugs, or because they have a pre-existing medical condition.
Background
The full list of drugs seized is:
1126 units of Anircetam
789 units of Centrophenoxine
2771 units of Citicoline
681 units of Nefiracetam
289 units of Oxiracetam
30 units of Phenibut
28 units of Pramiracetam
3 x units of Sulbutiamine
2478 units of Sunifram
538 units of Vinpocetine
2289 units of Noopept 30 mg
1936 units of Noopept 60 mg
46 x units of Noopept 120 mg
2174 units of Phenylpiracetam
1985 units of Picamilon
Pictures of the seized medicines available upon request.

MHRA is responsible for regulating all medicines and medical devices in the UK by ensuring they work and are acceptably safe. Underpinning all our work lies robust and fact-based judgements to ensure that the benefits justify any risks. MHRA is a centre of the Medicines and Healthcare Products Regulatory Agency which also includes the National Institute for Biological Standards and Control (NIBSC) and the Clinical Practice Research Datalink (CPRD). MHRA is an executive agency of the Department of Health.
Published 24 October 2014