Medical help and food for Syrians caught up in violence
New UK aid will get vitally needed food, water and medical supplies to tens of thousands of people across the country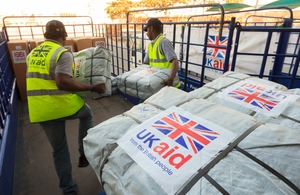 New British support will help get vitally needed food and medical supplies to tens of thousands of Syrians affected by ongoing fighting.
The emergency aid from the UK will reach those caught up in the violence around the city of Homs and more widely across Syria, Prime Minister David Cameron announced today.
The funding will help contribute towards providing:
Emergency medical services and supplies for those injured due to the violence, which could include surgical equipment and first aid training
Basic food rations sufficient for over 20,000 people, along with essential household items such as cutlery, cooking utensils, blankets and towels for up to 5,500 people forced to leave their homes by the fighting
Emergency drinking water transported to 2,750 people and restoration of damaged water and sanitation infrastructure to ensure access to safe drinking and washing water for over 30,000 people
Deployment of an advisor to the region to promote better co-ordination of relief efforts to make sure aid is reaching those in most need.
International Development Secretary Andrew Mitchell said:
The emerging picture from Syria is increasingly horrifying, and as the shelling of Homs enters its third week our concern for the humanitarian situation continues to grow. The support that the Prime Minister has announced today will provide immediate and potentially life-saving short term help for thousands of innocent civilians under attack - but a longer term solution is urgently needed.

Humanitarian agencies in the country are doing admirable work, but restraints imposed by the Syrian Government mean effectively they have one hand tied behind their back, while many other agencies aren't even able to get access. The UK Government has consistently called for an end to the violence and unimpeded access to Syria for humanitarian agencies. These agencies must be allowed to assess what further help may be required and to meet the urgent needs of all those suffering as a result of the violence.
The UK has already significantly increased core funding to humanitarian agencies this year to cover their ongoing operations all over the world, including in the Middle East region.
Published 17 February 2012