Medals awarded for British police work in Afghanistan
Afghan Police General presented medals to UK police officers in recognition of their excellent work in Kabul.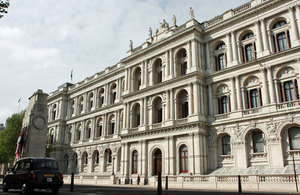 Major General Patang, Head of the Afghan National Police Training General Command, visited the Foreign Office on 22 July to present Afghan Presidential medals to two UK police officers. Brian Johnston and Tom Stabler currently serve with the European Union Police Mission in Afghanistan. The medals have been awarded by President Karzai in recognition of their excellent work in developing police training at the Police Staff College in Kabul.
The Afghan National Police will be essential in creating and maintaining long term peace and stability in Afghanistan. Whilst the police continue to face challenges, significant progress has been made and the process of transferring lead security responsibility to Afghan security forces is now formally underway.
Whilst at the Foreign Office, Major General Patang also met with Mark Sedwill, the UK's Special Representative for Afghanistan and Pakistan. He thanked Mark for the UK's contribution to the development of the Afghan National Police, and reiterated the importance of long term support from the international community as Afghan security forces continue to take on more responsibility.
Major General Patang is visiting the UK to learn more about how the UK trains its police officers. As part of his trip he will visit the International Academy Bramshill and the Scottish Police College.
As of 30 June, there were 130,622 Afghan National Police officers, well on track to meet the target of 134,000 by October 2011.
Published 25 July 2011