News story
Measles cases drop for the fourth consecutive month
Monthly cases of measles continue to decline for the fourth time, with 21 confirmed cases in August.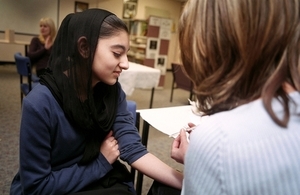 Cases of measles in England continue to fall, with 21 confirmed cases in August, compared to 73 cases in July and 116 in June. This is the fourth consecutive monthly drop in measles totals and brings the overall number to 1,386 cases since the start of the year.
In April, a nationwide MMR catch-up programme was launched by Public Health England (PHE), NHS England and the Department of Health (DH). The programme aimed to prevent measles outbreaks by vaccinating as many unvaccinated and partially vaccinated 10 to 16 year olds as possible by the end of September.
When compared with data for a similar number of children aged 9 to 15 years in 2012, and then extrapolated to all GP practices in England, the numbers suggest that almost 78,000 previously unvaccinated children nationally may have received a dose of MMR vaccine since last year. Additionally, around 2.5% more children in the 10 to 16 year age group have completed the 2 dose course.
Most vaccines were given in primary care, although in some areas school campaigns were undertaken in response to local measles outbreaks. Vaccine supply figures suggest that around 200,000 extra doses of MMR have been used.
Dr Mary Ramsay, Head of Immunisation at PHE, said:
We continue to see a drop in measles cases throughout England, yet it is still too early to confirm if this is response to the catch-up programme.

Getting vaccinated is the best way to prevent measles and protect friends and families, especially ahead of going back to school when it's most likely to spread.

Plans are being developed locally to focus on initiatives to improve and sustain vaccination in school age children to approach and exceed the 95% uptake target. Some of these include nurse visits, letters to parents and ensuring MMR dosage checks become a routine part of all teenage health checks.
Those who have not been vaccinated should contact their GP to receive MMR vaccination. One dose will give them 95% protection against measles. A second dose provides almost complete protection.
Progress in the campaign has been monitored using data on the MMR vaccination status of children between 10 and 16 years old, gathered during August 2013 from around a half of general practices in England.
Notes
PHE has commissioned an audit which aims to confirm both the baseline level of coverage and the current level given the catch-up programme so far. This audit will take information from the Child Health Information Systems in London and elsewhere, and review this against GP records for those identified as unvaccinated to confirm their vaccination status.

The total target population of unvaccinated 10 to 16 year olds is around 330,000. The catch-up programme has a wider ambition to reach partially vaccinated 10 to 16 year olds (around 330,000) and unvaccinated and partially vaccinated children outside this age group (around 330,000).

A total of 21 cases were confirmed in England in August, making the total number of cases since the start of the year at 1,386. The South-West region has been the most affected region with 8 cases, almost all associated with an on-going outbreak of a new D8 strain.

Overall 294 (21%) of all cases in 2013 were admitted to hospital including 46 reported complications including pneumonia, meningitis and gastroenteritis.

Among cases this year, 274 cases (20%) associated with secondary school outbreaks. Small outbreaks have also been reported from 'hard-to-reach' populations with known low vaccine coverage such as the travelling community and the ultra-Orthodox Jewish community in north London.

Public Health England's mission is to protect and improve the nation's health and to address inequalities through working with national and local government, the NHS, industry and the voluntary and community sector. PHE is an operationally autonomous executive agency of the Department of Health.
www.gov.uk/phe Follow us on Twitter @PHE_uk
Published 4 October 2013