News story
MBE for 'compassionate and inspirational' warrant officer
A Royal Navy training officer has been awarded an MBE in the New Year Honours List for his 'tireless efforts on behalf of others'.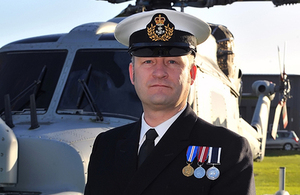 Warrant Officer Barry Firth, based at Royal Naval Air Station (RNAS) Yeovilton, was awarded the MBE in this year's New Year Honours List for the key role he has played both in his work and his unstinting support of children's charities, including the Sporting Bears Motor Club, who have raised £1.2 million to date.
When asked how he feels about receiving such recognition, the 42-year-old from Yeovil said:
Two things went through my mind when Caitlin, my wife, read the letter out to me on the phone; one was an overwhelming sense of how surreal it seemed at not feeling worthy, and the other was relief that it wasn't a speeding ticket, as I was concerned that it was a cream-coloured, letter-sized envelope sent from Portsmouth. It's slowly sinking in and I feel very honoured.
On sharing his news with his family, Mr Firth said:
My mum cried and both she and my dad said they were extremely proud and that my grandma (deceased) would be over the moon. The main thrust of everything I do is to try and be a good example and role model for my son, James.

I have done some research and found out that as an MBE holder he can (if he chooses) get married in one of the chapels in St Paul's Cathedral. So that would be something amazing, although as he only 5 years old I may need to start saving now!
Warrant Officer Firth's citation for becoming a Member of the Military Division of the Most Excellent Order of the British Empire (MBE) reads:
Responsible for maritime modifications in the Lynx project team, you have risen to every challenge, building a strong reputation for your technical expertise and consummate professionalism.

Shouldering responsibilities beyond your rank, you have played a key role in providing safe solutions and delivering a broad range of complex and important aircraft modifications, including dual control configuration, that will bring immense advantage to the service.

At the same time the enthusiasm and selflessness that are a hallmark of your professional life are reflected in your activities in the wider community where you are a tireless supporter of children's charities.

An exceptional ambassador for the Royal Navy, you are a compassionate and inspirational figure who sets a fine example. Your tireless efforts on behalf of others are particularly impressive and in the finest traditions of the service.
Mr Firth is currently employed as the Deputy Engineering Training Officer within the Yeovilton Engineering Training School at RNAS Yeovilton. He is responsible for the training of Air Engineering Technicians on Lynx, Wildcat and Sea King helicopters.
Published 10 January 2014