Mastiff protects soldiers from roadside explosion in Helmand
British soldiers have escaped unharmed after the Mastiff vehicle they were travelling in was struck by an improvised explosive device.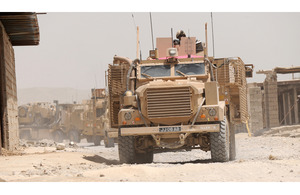 A group of soldiers serving with 1st Battalion The Duke of Lancaster's Regiment in Afghanistan escaped completely unharmed after the armoured vehicle they were travelling in was struck by an improvised explosive device (IED) in August.
Sergeant Barry Quinn, who hails from Burnley, was driving the Mastiff armoured transport vehicle carrying a group of soldiers when a roadside bomb, laid by insurgents trying to disrupt the work of the International Security Assistance Force, exploded.
The heavily armoured Mastiff withstood the blast, protecting all its passengers, and was then able to continue on its journey without any further delay.
Sgt Quinn's role as a Mastiff Group Commander means he has a team of ten men and two to three Mastiffs to command in Helmand province. He said:
I was going to pick up some people when my vehicle was hit. Initially I thought it was the rear of the vehicle as there was a cloud of dust. I went back to check on the guys and found another IED, which we marked to be dealt with later. Everyone was OK and the vehicle was still able to move, it just had a couple of popped tyres.
Sgt Quinn, who joined the Army as a 16-year-old, wasn't surprised about the Mastiff's ability to shield its passengers from danger:
The Mastiff is a great bit of kit," he said. "They are reliable and have saved a lot of lives. At the beginning of our tour one of the lads in a Mastiff was hit by a big IED and all he had were a few bumps and scrapes.
Sgt Quinn joined the Army after attending the Army Foundation College in Harrogate which was built specifically to train and educate 16-year-olds before they join the Regular Army:
It was brilliant - it sets you up for the future," he said of the experience. "I promoted from private to corporal in four years, and then reached the rank of sergeant in another four. The usual time to reach the rank of sergeant is 12 years within an infantry battalion.
In 2004 he went back to the Army Foundation College as an instructor:
Teaching there was the best two years of my career," he said.
Sgt Quinn is now looking forward to the end of his tour and seeing his children, twins Ryan and Owen, aged two, and daughter Courtney, aged four, and taking them on holiday.
Published 7 September 2010