Martin Cave confirmed as Ofgem Chair
New Ofgem Chair, Martin Cave, will take up his role on 1 October 2018.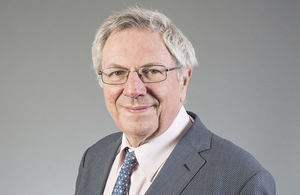 The Business and Energy Secretary, Greg Clark, has confirmed Martin Cave as the new Chair of Ofgem, the independent regulator of gas and electricity markets in Great Britain. Dr Cave will take up his position on 1 October.
Ofgem's role is to protect the interests of existing and future electricity and gas consumers, promoting value for money, security of supply and sustainability.
Prior to taking on this role, Martin has undertaken a number of roles in government including as Economic Adviser to Ofcom between 2003 and 2006. He has been appointed to lead several high profile reviews within government, which is testament to his credibility in the sector.
Secretary of State for Business, Energy and Industrial Strategy, Greg Clark said:
We are determined to see active regulators who put consumers interest at the heart of their work, the appointment of Professor Cave to lead Ofgem will ensure that.

Professor Cave has an impressive track record and is well respected for his work regulating the utility markets. I have no doubt he will use his wealth of expertise to protect consumers whilst we continue to build and upgrade our energy system to make it fit for the future.
This appointment has been endorsed by the Business, Energy and Industrial Strategy Select Committee following the pre-appointment hearing which took place on 3 July.
Martin Cave will take up his role as a Non-Executive Director (NED) of Ofgem until he becomes Chair on 1 October after being found appointable during the recent NED appointment process.
Published 21 September 2018