News story
Marking World Poetry Day
From Vera Brittain to Wilfred Owen: online memorial of First World War poems created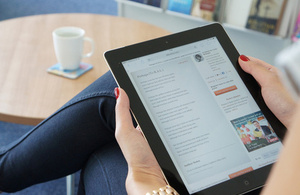 To mark World Poetry Day, Culture Secretary Maria Miller today called on the public to record their favourite First World War poem in tribute to those who served.
The Culture Secretary has recorded 'Mametz Wood' by contemporary Welsh poet Owen Sheers, and is also joined by Culture Minister, Ed Vaizey, Baroness Shirley Williams, historian Mary Beard, actor Christopher Timothy and Poems on the Underground founder Judith Chernaik, who have also lent their voices to the online memorial.
Maria Miller said:
Poetry has the potential to connect us to people, places and ideas. The guns of the First World War eventually fell silent, and grass grew over the trenches, but the bravery and sacrifice of individuals and nations lives on in war poetry. By recording or simply listening to a war poem today, we can remember these stories and learn from the powerful lessons they tell.
The poems recorded range from iconic to lesser-known works with the aim of broadening people's knowledge of war poets. Three Wilfred Owen poems feature, 'Dulce et Decorum Est', 'I saw His Crimson Mouth' and 'The Soldier's Dream' as does 'The Troop Train' by Vera Brittain, which is read by her daughter Baroness Shirley Williams.
'In Flander's Fields' was chosen by Rachel Dyne, a housing support worker for the YMCA. The poem has special significance for the charity because its haunting image of wild poppies growing between rows of crosses inspired YMCA worker Moina Michael to promote poppy-wearing for remembrance.
Alongside the more popular poets, participants also selected works by female and international poets that may be new discoveries for listeners. Historian Mary Beard recites 'New Year 1916' by Ada Harrison, Judith Chernaik has selected 'Conscientious Objector' by Edna St Vincent Millay and Cicely Herbert reads 'I Know The Truth' by Russian poet Marina Tsvetaeva.
Get involved
To take part, get on Audio Boo, record yourself reading your favourite First World War poem and tweet @DCMS with a link to the recording using #WW1poetry. We'll have a listen, share it across our channels and add it to our Storify. Alternatively, just tweet us the name of your favourite poem and why with the same hash tag. Let's get as many people as possible talking about First World War poetry on World Poetry Day.
Find all the poetry readings on our DCMS Audio Boo account.
Published 21 March 2014