World news story
Marking the 450th birthday of Shakespeare
To mark the occasion of 450 years of Shakespeare's birth, ambassador Whitting held a speech at National Library Cetinje.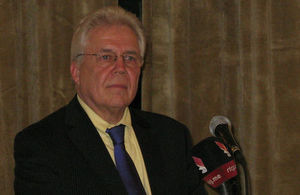 Drage dame i gospodo, Prijatelji, Rimljani, zemljaci, počujte me! Kažu da nema prilike u kojoj se ne može upotrijebiti neki Šekspirov citat, što je u ovom slučaju svakako istina - svi smo ovdje prijatelji, mnogi su zemljaci, a ne bi me iznenadilo da ima i onih koji pripadaju vječnom gradu, makar u duhu.
Dozvolite mi da se vratim svom maternjem jeziku, a siguran sam da će mi i vaše uši na tome biti zahvalne.
It is a pleasure and a privilege to be here to share your celebration of 450 years of Shakespeare. We are marking his 450th birthday this year, and celebrating the fact that his work has been performed and admired throughout all those years. Cultural institutions, schools, universities, museums, theatres, amateur dramatics societies – young and old – are joining in the global celebrations with special performances, exhibitions such as this one, seminars, new productions, international festivals in music and film, and a multitude of reimaginings of his work – from Brazil to Japan.
The international scale and scope of celebrations is appropriate, given that Shakespeare is as much a poet of the world as he is England's Bard. He is one of a handful of creators whose tremendous talent and universal appeal have made them global spirits. We speak of our own time as the age of globalisation, and yet when we look at Shakespeare's work, we see the Renaissance era of exploration and discovery – from "fair Verona" up to Denmark, the English battlegrounds of the wars of the roses to the mysterious, magical new world of the Tempest.
But we do, as it happens, celebrate Shakespeare's birthday on the same day as England's patron saint, St. George. And it is a fitting combination, given Shakespeare's distinct contribution to the English language. His work contains the first written use of around 1,700 words in English, including: hot-blooded, swagger, jaded, remorseless, majestic, new-fangled, critic, assassination, sea change, lily livered, aerial, bedazzled, 'fashionable', 'mortifying', 'quarrelsome', 'reclusive' and even 'puke'.
If you speak in idioms – as English speakers often do – there's a strong chance you'll be quoting Shakespeare: if you want to 'break the ice', if you've been 'eaten out of house and home', if you're worried you might 'kill with kindness', if you've spoken 'more in sorrow than in anger', if you are a 'green-eyed monster', of if you can say 'the world's my oyster' – you are quoting Shakespeare.
That his words remain part of daily language in Britain 450 years after his birth is a fitting tribute to his poetic skill, while his continued global reach and influence is a testament to his flair as a dramatist.
He wrote most famously for the theatre, which was the closest thing Renaissance England had to a mass-medium. It was as popular as television and as rowdy as a football match. If you visit London today you can enjoy his plays as they were originally presented at the fabulously recreation of Shakespeare's Globe Theatre – with musicians in the gallery, actors in ruffs and farthingales, and often with audience participation.
His plays are subtle and rich in challenging thought - but they are also funny, touching and charged with an emotional power that speaks directly to any audience, anywhere in the world, giving them this mass appeal.
His works remain globally popular because they deal in universal themes, engaging an audience through family quarrels, power-struggles, love and death, joy and sorrow. These are topics to which anyone can relate. And Shakespeare doesn't just tell us about these ideas, he brings them to the stage so forcibly that anyone in the audience – whatever their cultural background - can feel the impact of the dramatic punch he throws.
Another reason for his work's longevity and international appreciation is that you can play with Shakespeare in any way you like. Romeo and Juliet have been placed in the gang rivalries of New York, in West Side Story, and in modern Los Angeles in Baz Luhrmann's film. Hamlet can be a Danish prince or heir to an international business conglomerate. Othello can be a war hero, a police chief or even a young basketball player. Kurosawa's "Ran" sets King Lear in medieval Japan, while Tchaikovsky and Verdi found in Shakespeare's stories the inspiration for some of the world's finest ballet and opera music.
His complete works have been translated into over 80 languages from Arabic to Zulu. His plays are indestructible. Age cannot wither them, nor custom stale their infinite variety. Each country, culture and generation finds their own ways of relating to and retelling Shakespeare. And as we do so, we discover more about his work and more about ourselves and our time.
And I'm pleased to say the celebrations do not stop here. Back in the UK, more than 40,000 British school children from 1,500 schools will get the chance to perform in a Shakespeare play in a professional theatre thanks to the Shakespeare Schools Festival. The English Department in Niksic announced a sonnet translation competition together with the British Council. The British Council is supporting the Globe Theatre in an international tour that will present Hamlet in Montenegro on 12 June at the National Theatre. And I am sure Shakespeare will feature in the celebration of British education and culture when we mark the 80th anniversary of the British Council – and 20 years of the British Council in Montenegro – in the autumn this year.
Having said all this, I congratulate the National Library for having joined this global celebration by organising this exhibition of Shakespeare works held here in Cetinje. And finish in the words of another esteemed Elizabethan dramatist, Ben Jonson, on the death of his friend William Shakespeare:
He was not of an age, but for all time!
Published 23 April 2014