World news story
Marking the 30th Anniversary of Chevening Scholarships in Kosovo
The British Embassy celebrates 30 years of Chevening worldwide and 15 years of the programme in Kosovo.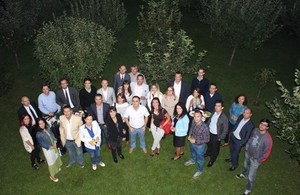 The British Embassy in Kosovo celebrated the two milestone anniversaries of the Chevening Programme on 3 September 2014. The Chevening programme was launched in 1983 and has developed into a prestigious international scheme over the last 30 years, attracting a wealth of high calibre applicants from all around the world.
The Chevening scheme has been sponsoring future leaders from Kosovo to study in the UK since 2001. Over 128 Chevening scholarships have been offered in Kosovo and 15 years later, Kosovo's Chevening Alumni are now working in diverse and important roles in the politics, civil society and business.
To mark both anniversaries, the British Embassy co-organised a reunion for Alumni with former Chevening scholar Besnik Tahiri and the British Council. A large number of Chevening Alumni, including journalist Adriatik Kelmendi, Acting Minister of Trade and Industry Bernard Nikaj, Deputy Foreign Minister Petrit Selimi and Shenoll Muharremi, Executive Director of the Development Group LLC, travelled to Tahiri's house in the village of Bradash attended this event and reflected on their time in the UK.
Second Secretary Political and Head of the Chevening Programme in Kosovo Myrna Macgregor underlined the contribution that Chevening Alumni were making to Kosovo's development and announced the opening of applications for 2015/16 Chevening Scholarships, noting the Chancellor's exciting announcement on the tripling of scholarships in the Budget.
Notes for Editors
Chevening Scholarships are the UK government's global scholarship programme, funded by the Foreign and Commonwealth Office (FCO) and partner organisations. The Scholarships are awarded to outstanding graduates with the potential to be leaders to pursue one-year Master's degrees in any subject and at any of the UK's leading universities. There are over 40,000 Chevening alumni around the world who together comprise an influential and highly regarded global network.
On 9th July over 500 past and present Chevening Scholars representing 118 countries gathered at Chevening House to mark 30 years of the UK's most prestigious scholarship programme and to invite the brightest graduates around the world to apply. Kosovo was represented by Chevening Alumni and Kosovo Ambassador to the UK Lirim Greicevci.
Applications for the 2015/16 programme are currently open.
Published 5 September 2014