World news story
Marking St George's Day with the 'Dragonslayer' tour in Zagreb
Ambassador Slinn joined a special walking tour of St George's monuments in Zagreb for St George's Day.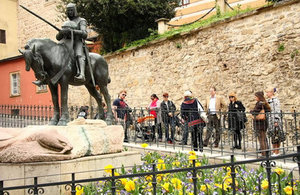 To mark St George's Day, our Ambassador, David Slinn, yesterday joined a special walking tour of Zagreb organised by Secret Zagreb Walks which was called St George, the Dragonslayer. Tourists, perhaps even some residents, might be surprised to learn that St George has a number of sculptures in Zagreb, a street, a hill and even a graveyard that bear his name.
During the interesting walk which took in St George's street and a couple of little known passages around the city centre, David learns about St George's prominent place in Croatian history and also at the same time found an unusual way of marking St George's Day, England's national day.
Published 25 April 2014