Press release
Mark Russell confirmed as Chief Executive of Shareholder Executive
Following an open competition Mark Russell has been appointed as Chief Executive of the Shareholder Executive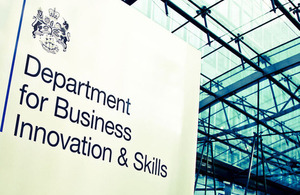 Mark has been acting as interim Chief Executive since 4 February and his appointment takes place with immediate effect. He will lead a team of 130 staff.
Business, Innovation and Skills Permanent Secretary, Martin Donnelly said:
This appointment is excellent news for the Shareholder Executive team, for the Department, and for our partner businesses. Mark's extensive business experience and in-depth knowledge of regulated industries, combined with a record of delivery within government, equips him to deliver a radical and challenging programme of reform.
The Shareholder Executive is a centre of commercial expertise within government, with responsibility for a portfolio of over 20 businesses where there is a clear shareholding mandate. This includes government responsibility for Royal Mail and Post Office Ltd. Following primary legislation, the government's intention is to inject private capital into Royal Mail. The Shareholder Executive is leading this work on behalf of government.
Working with other central government departments, particularly HM Treasury and Cabinet Office it plays a wider role as a corporate finance resource within government. This includes advising on launch aid and regional and industrial assistance. The Chief Executive is also responsible for the development of BIS's contribution to the government's cyber security agenda, and is a member of the BIS Management Board.
Mark joined the Shareholder Executive in 2004, following a career in corporate finance. He was a partner in the corporate finance departments of KPMG London (2003-2004) and KPMG Frankfurt (2000-2003). Leading on matters relating to the Nuclear Decommissioning Agency, Mark is also a non-executive director of London and Continental Railways Limited and Eurostar International Limited, and chairs Eurostar's audit committee.
Mark Russell replaces Stephen Lovegrove, who was appointed to the post of Permanent Secretary at the Department of Energy and Climate Change in January.
Notes to editors
The government's economic policy objective is to achieve 'strong, sustainable and balanced growth that is more evenly shared across the country and between industries.' It set four ambitions in the 'Plan for Growth' (PDF 1.7MB), published at Budget 2011:

To create the most competitive tax system in the G20
To make the UK the best place in Europe to start, finance and grow a business
To encourage investment and exports as a route to a more balanced economy
To create a more educated workforce that is the most flexible in Europe. Work is underway across government to achieve these ambitions, including progress on more than 250 measures as part of the Growth Review. Developing an Industrial Strategy gives new impetus to this work by providing businesses, investors and the public with more clarity about the long-term direction in which the government wants the economy to travel.
Published 8 April 2013