Michael O'Neill, Head of the Helmand Provincial Reconstruction Team, visited Marjeh to hear about progress since Operation Moshtarak, the military operation that liberated central Helmand at the start of this year.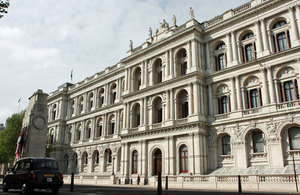 Speaking about his visit, the British diplomat said:
"I spoke to the owner of a new restaurant, and walked through a couple of markets and past the construction site of a new high school. This may not sound like an exciting day, but this was Marjeh in Helmand Province, Afghanistan.
The last time I visited, this July, security meant that I wasn't allowed to leave the military base. This time I took a walk through the bazaar.
Calling in for lunch with District Governor Mutalab I heard his concerns over the provision of education and healthcare.
There is a lot still to be done and our optimism should be cautious. But the people of Marjeh are increasingly looking and working towards their future. As they do so, it's important to recognise how far Marjeh has come with the considerable contribution and sacrifice of the US Marines."
Marjeh has an economically vibrant past. US development assistance brought canals and irrigation to the area in the 1950s, attracting people to settle in the arid desert of southern Afghanistan.
Although elders remember the good times, Marjeh's most recent history is one of insecurity under the Taliban. The district became a haven for hundreds of Taliban fighters and was a staging post for insurgent attacks in the region.
Moshtarak ('together' in Dari), was a military operation led by US forces with the support of Afghan, UK and NATO partners that began on 13 February. It has cleared the area of insurgent fighters, bringing security and paving the way for reconstruction and the development of local institutions.
Published 1 December 2010