Press release
Maria Miller announces new £10 million fund from the Lottery to help mark important anniversaries in Britain's shared history
Funding will help highlight important historical dates that resonate with people and communities across the UK.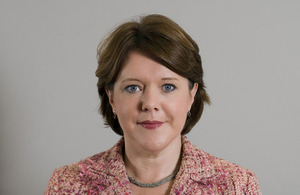 Culture Secretary Maria Miller today announced a new £10 million fund to help fund projects marking some of the United Kingdom's most important anniversaries and commemorative events.
Over the next 4 years at least £10 million from the Heritage Lottery Fund (HLF) will be invested to ensure that those moments which form a central part of our national history are commemorated and understood.
The funding will help to highlight important historical dates that will resonate with people and communities right across the UK. It reflects the British people's appreciation of the significance of their country's unique history and the potential for the marking of anniversaries to encourage feelings of national pride and a sense of unity.
Culture Secretary Maria Miller said:
The Diamond Jubilee and the Olympic and Paralympic Games showed how shared national moments can bring the whole country together. This new fund reflects the fact there is enormous enthusiasm to provide more opportunities to foster the sense of community spirit and national pride that such events can inspire.
Our island story is unique, inspiring and educative in equal measure and it's right that everyone, young and old, should have the chance to appreciate it through commemorative activities, and be reminded of Britain's place in the world.
Forthcoming events eligible for funding could include:
the centenary of Dylan Thomas' birth in 2014
the 800th anniversary of the Magna Carta, the 600th anniversary of Agincourt and the bicentenary of the Battle of Waterloo in 2015
the 400th anniversary of Shakespeare's death, the 700th anniversary of Bannockburn, and the 150th anniversary of Beatrix Potter's birth in 2016
a range of significant dates relating to the 2nd World War and a decade of anniversaries in Northern Ireland
The funding will be provided to ensure that projects of all sizes can apply for support from smaller grants of a few thousand pounds up to grants over £2 million.
Dame Jenny Abramsky, Chair of HLF, said:
Few will forget the most magical events of the Olympic and Paralympic Games, including an opening ceremony that celebrated UK culture and its achievements and highlighted major moments in our history. We also had the opportunity as a nation to unite people and celebrate excellence. There are many other key times of celebration or sadness from our past and from the diverse stories of these islands that have left a similar impression. This lottery investment will ensure that these pivotal moments, places or people will not be forgotten by future generations.
Notes to editors
The Heritage Lottery Fund (HLF) uses money raised through the National Lottery to make a lasting difference for heritage, people and communities across the UK and help build a resilient heritage economy. From museums, parks and historic places to archaeology, natural environment and cultural traditions, we invest in every part of our diverse heritage. HLF has supported 35,000 projects with £5.5 billion across the UK.
Press enquiries to the Heritage Lottery Fund concerning this announcement should be made to Alison Scott - Head of Media HLF – 0207 591 6032 or 07989 535527.
Published 1 October 2013