News story
MapSearch wins Digital Award at Civil Service Awards
Our MapSearch service has been recognised as the best innovation across the Civil Service using digital technology to make things better.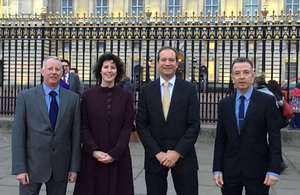 Yesterday, MapSearch won the Digital Award at the 10th annual Civil Service Awards hosted by The Queen at Buckingham Palace.
In March 2014 Land Registry launched MapSearch – a free to use digital service that gives customers self-service access to an online web mapping tool. For the first time it allowed users to quickly establish whether land and property in England or Wales is registered, view the location of registered land and property and obtain title numbers, details of freehold or leasehold tenure and other registered interests.
Graham Farrant, Chief Executive and Chief Land Registrar says: 'We are delighted that another one of our digital services has won a prestigious Civil Service Award for a second year in a row! MapSearch is a fantastic service that has not only saved our customers time and money but has opened up new possibilities that would not have been possible before this new service."
In 2014, Land Registry won the Civil Service Innovation Award with Property Alert – a free property monitoring service aimed at anyone worried that their registered property could be at risk from fraud.
Mr Farrant continues: "With this second award under our belt we are going to continue onwards with our digital journey, proud in the knowledge that what we are doing is making a real difference to the property market in England and Wales."
MapSearch has been a huge success. As a free service, customers have saved £2.6 million in fees so far. They can now get instantaneous results 24 hours a day, 7 days a week. 95 per cent of Land Registry customers surveyed said that MapSearch was easy to use, intuitive and saved them time.
By driving digital innovation in collaboration with Land Registry's customers and the Government Digital Service (GDS), MapSearch provides an open scale tool that has helped to make the process of buying and selling of property quicker, cheaper and easier for all.
One of its users, Alex Clark, Legal Director and Head of Legal Practice at Enact Conveyancing Limited says: "MapSearch is an incredibly useful tool and I recommend it to every Conveyancer. It is easy to use, saves a lot of time and is free. It is the perfect example of Land Registry listening to the Conveyancer and developing a tool the profession really needed"
Land Registry is continuing to develop new digital services such as the Digital Register and Digital Mortgage.
Published 13 November 2015