News story
Manufacturing and materials for nuclear: apply for contracts
Businesses can apply for a share of £5 million to develop new manufacturing and materials technologies for the civil nuclear sector.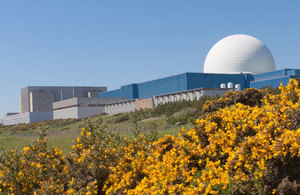 The Department for Business, Energy and Industrial Strategy (BEIS) has up to £5 million to invest in innovative manufacturing and materials technologies that benefit the UK's civil nuclear sector.
The funding competition is part of the UK's nuclear manufacturing and materials research programme that aims to improve the economic prospects of nuclear power technologies.
The Government expects to invest up to £250 million in nuclear innovation over the next 4 years.
Applications to this competition must be under one of the following 5 themes:
structural materials: identifying potential structural materials, manufacturing processes and testing environments for targeted research and development; and developing advanced modelling approaches
mechanisation and automation of component manufacture
large-scale component manufacture and assembly
development and verification of pre-fabricated modules
design codes and standards
This is a Small Business Research Initiative (SBRI) competition run by BEIS in partnership with Innovate UK.
The competition will be run in two stages for the first three themes and in a single stage for the last two themes.
Find out more about SBRI and how it has helped businesses.
Competition information
the competition is open, and the deadline for registration is at noon on 11 January 2017
the first stage (themes 1, 2 and 3) is for technical feasibility studies lasting up to 3 months and worth up to £25,000
the most promising projects following stage 1 could receive further funding to develop their ideas in a second stage. Contracts for stage 2 projects could be worth up to £1.9 million
contracts under theme 4 are for feasibility studies, will last up to 12 months and could be worth up to £200,000
contracts for theme 5 are for feasibility studies, will last up to 24 months and could be worth up to £300,000
the competition is open to any organisation and is for fully funded development contracts
a briefing event for potential applicants will be held in London on November 17
Published 8 November 2016