News story
Manufacturers asked to help create drug screening device
Specifications for a new police station-based drug screening device have been produced by the Home Office.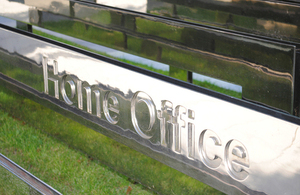 A document published today asks manufacturers to produce prototype devices that allow officers to test for drugs - including cannabis and cocaine - in a suspect's system.
If the test is positive, a blood sample will be taken.
Currently a medical examiner must be called out to carry out an assessment but this device will save time, allowing suspects to be dealt with quickly.
Easier to spot
'Motorists under the influence of drugs are a danger on the road,' said crime prevention minister James Brokenshire.
'We are determined that police have the highest quality devices to help identify them. This specification is a big step towards that goal.
'Police already have robust powers to test drivers for signs of impairment and this device will make it easier for them to identify the reckless drivers who are putting lives at risk.'
Portable devices
Manufacturers now have until 31 January to indicate if they are interested in this project. Testing of devices will begin in February and the Home Secretary will make the final decision.
Meanwhile, the government will continue working with manufacturers to investigate introducing portable devices which could be used at the roadside.
Published 14 January 2011