Press release
Man sentenced after waste fire destroys firm
Environment Agency investigation results in North East businessman being sentenced after his 'reckless practices' caused a waste fire.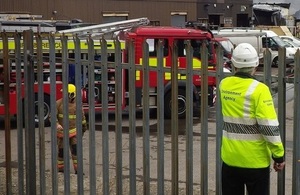 A Middlesbrough businessman has been handed a suspended prison sentence after his poor environmental practices caused a waste fire which became a major incident for emergency crews.
The blaze at Melbray Chemicals Ltd on Durham Lane Industrial Estate, Eaglescliffe in March 2015 resulted in a chemical spill and well over £500,000 paid out by insurers to clean up the site.
Brian Hannon, aged 73, of Cleveland View, Faceby, was charged with two waste offences when he appeared before Teesside Crown Court on Wednesday, November 16.
He admitted both allegations brought by the Environment Agency and was sentenced to six months in prison, suspended for 18 months. He was also ordered to pay £5,000 costs and an £80 victim surcharge.
Waste burned on site
The court heard how Hannon was the managing director of Melbray Chemicals Ltd which created and supplied chemicals for use in the oil and gas drilling industry. Raw material was brought on to the Eaglescliffe site for blending, and surplus stock which included corrosive, flammable and toxic substances, were stored outside.
Mr Craig Hassall, acting on behalf of the Environment Agency, said there was no concreted surface to prevent chemicals from spilling into the ground, no bunded area to contain a spill or sealed drainage.
The company's production manager had no formal training during his 27 years with the firm and there was no commercial waste collection in place. Instead staff were told by Hannon to burn waste on site in a fire pit – near to the chemical drums.
The court heard that on March 5, 2015 staff started a fire to burn paperwork and wooden pallets. They stayed with the fire until they thought it was out but didn't ensure it was properly extinguished. Around lunchtime, Hannon admits that he placed more materials in the burning area, not realising there could still be hot embers from the earlier fire.
A short time later, two of the chemical containers were found to be on fire. It created a large amount of thick black smoke, and worsened in the wind. Staff unsuccessfully attempted to control the fire, and the emergency services were called.
Mr Hassall said that it took several hours to put the fire out, Durham Lane had to be closed, several businesses were evacuated and residents were told to stay indoors.
An estimated 1,600 litres of formaldehyde spilled into the ground during the fire and industrial-strength sulphuric and hydrochloric acid leaked from their containers which are extremely hazardous and put people's health, including firefighters, at risk.
High cost of blaze
The fire cost insurers more than £1 million to clean up the site and make it and other affected properties usable again.
In interview, Hannon said he was unaware that burning waste on his site was illegal and admitted that he left the fire pit unattended on the day the blaze started.
Hannon, who had never been in trouble before in his life and had a number of good character references during the case, has suffered financially after the firm went into receivership following the fire.
'Reckless practices'
Speaking after the court case, Environment Agency officer Iain Barker-Jones said:
Hannon ignored environmental law because he wanted to cut corners and save himself the cost of running his business legally. His reckless practices had a high price though because his business went up in smoke and it was only due to the quick actions of the emergency services that there wasn't a major pollution incident.

This case demonstrates the need for all businesses to take their environmental responsibilities seriously. Like Hannon, failure to do so can destroy your business, have an immediate impact on people around you and pollute the environment for future generations.
Published 18 November 2016