Press release
Man jailed for money laundering and the sale of unlicensed medicines
A Brighton man was today sentenced at the Old Bailey for his role in a long running conspiracy to sell unlicensed medicines.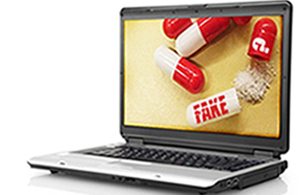 Darrell Jacob, 38 years old, of Hereford Street, Brighton, was given a 4-year prison sentence for 2 counts of the sale and supply of unlicensed medicines as well as one count of money laundering.
He was part of a gang of of 12 men and women, 11 of which were previously sentenced to a total of more than 20 years in prison following a long running investigation into the sale of counterfeit and unlicensed drugs.
The gang had been selling counterfeit and unlicensed drugs over the internet since 2004 until their operation was closed down by the Medicines and Healthcare products Regulatory Agency in 2011.
Summing up the case HHJ Wade congratulated MHRA for a "meticulously managed and well-focused case."
Alastair Jeffrey, MHRA Head of Enforcement said:
"This case shows the level and scale of organised criminality involved in the sale of unlicensed medicines.
"Those involved repeatedly tried to evade detection and made millions of pounds from their illegal activities.
"This has been a long and complex international investigation and is one of the largest we have ever prosecuted and the clear message from this case is that, if you buy medicines online, you are potentially trusting a criminal to look after your health.
"If you are ill and need treatment, a visit to your GP is the best course of action. We recommend that medicines are obtained from a legitimate high street or online pharmacy."
Background
The Medicines and Healthcare products Regulatory Agency (MHRA) is responsible for regulating all medicines and medical devices in the UK by ensuring they work and are acceptably safe. All our work is underpinned by robust and fact-based judgements to ensure that the benefits justify any risks. MHRA is a centre of the Medicines and Healthcare products Regulatory Agency which also includes NIBSC and CPRD. The Medicines and Healthcare products Regulatory Agency is an executive agency of the Department of Health.
Media enquiries
News centre
MHRA
151 Buckingham Palace Road
Victoria
London
SW1W 9SZ
Email newscentre@mhra.gov.uk
During office hours: 020 3080 7651 (08:30 - 17:00)
Out of office hours: 07770 446 189 (17:00 - 08:30)
Office hours are Monday to Friday, 8:30am to 5pm. For real-time updates including the latest press releases and news statements, see our Twitter channel at https://www.twitter.com/mhrapress
Published 29 May 2015