Press release
Man jailed for attempting to smuggle cannabis through Edinburgh airport
A 28-year-old man has been jailed for 18 months at Edinburgh Sheriff Court for attempting to smuggle approximately 10 kilos of cannabis through Edinburgh Airport.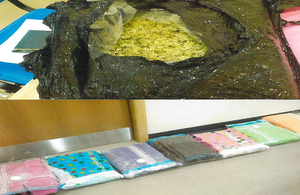 Yong Keh Kee, from Kuala Lumpur, Malaysia, was stopped by Border Force officers as he travelled from Madrid on 28 April 2017.
When they questioned him and examined two of his suitcases they found 10 vacuum packed packages containing cannabis leaves wrapped in towels.
The cannabis has a street value of £100,000.
Murdo MacMillan, Head of Border Force Scotland, said:
The vigilance of our officers has prevented a significant quantity of drugs entering the UK and ending up on our streets.

Working with partners from the National Crime Agency (NCA) we will continue to do all we can to prevent drug smuggling and bring those responsible to justice.
Cannabis is a class B drug which it is illegal to import, supply, or possess with intent to supply.
Following the seizure by Border Force, the investigation was passed to the NCA.
Ian Thomas, NCA Scotland Branch Commander said:
Drug trafficking fuels violence and exploitation and we are determined to work with law enforcement colleagues to protect the public from that.
Border Force officers use hi-tech search equipment to combat immigration crime and detect banned and restricted goods that smugglers attempt to bring into the country.
They use an array of search techniques including sniffer dogs, carbon dioxide detectors, heartbeat monitors and scanners – as well as visual searches – to find well-hidden stowaways, illegal drugs, firearms and tobacco which would otherwise end up causing harm to local people, businesses and communities.
Anyone with information about activity they suspect may be linked to smuggling should call the hotline on 0800 59 5000.
Published 23 August 2017