News story
Malala Yousafzai and Kailash Satyarthi awarded Nobel Peace Prize
Justine Greening welcomes the announcment of this year's Nobel Peace Prize winners.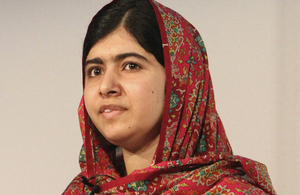 In response to the announcement that Malala Yousafzai and Kailash Satyarthi have been awarded the Nobel Peace Prize today, International Development Secretary Justine Greening said:
Malala Yousafzai and Kailash Satyarthi's Nobel Peace Prize wins are richly deserved. Their courage to champion the rights of young people, particularly girls, is inspirational and has helped open up opportunities for children around the world.

Every young person deserves to be able to go to school, work and make their own life choices without facing violence.

I've seen for myself the power of helping young girls reach their full potential. Not only do we see incredible returns for themselves, but also for their families and communities, and their economies and countries.
Published 10 October 2014