Press release
Making waves with mackerel
UK exports of mackerel rose last year, despite an unjustified Russian food ban across Europe.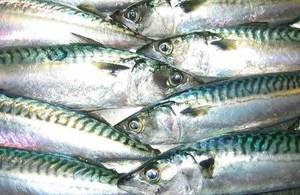 UK exports of mackerel rose by 44% between August and December last year after Environment Secretary Elizabeth Truss committed to growing trade in key markets following an unjustified Russian food ban across Europe.
The UK's mackerel trade, chiefly based in Scotland, was put at risk by Russia's action last summer with £16 million worth sold there in 2013. Since the sanctions exports to Nigeria have risen by almost £17 million between August and December 2014, compared to the same period in 2013. Exports to China were also up by nearly £5 million for the same period. Total exports increased by £29 million from 2013 to £115m in 2014.
When news of the ban broke Elizabeth Truss travelled to Peterhead to hear industry concerns, pledging to support businesses and promote greater trade elsewhere.
In the autumn, the UK government led on negotiations to promote mackerel to Asian buyers. Officials also met with the Nigerian government to reduce import restrictions that hinder EU businesses exporting fish into the country.
Commenting on the export increase, Elizabeth Truss said:
This government is committed to backing businesses and making sure our long-term economic plan rewards hard-working people across the UK. That's why I was determined to do all we could to support our mackerel fishermen in the face of this unjustified ban.

We took swift, decisive action to balance the impact of the ban and have now seen growth in mackerel exports to key markets. This is great news for our fishermen and shows when it comes to quality produce, Scotland and the rest of the UK are leading the pack.
While international trade negotiations took place to address this gap, the UK government also successfully secured a change to EU law that allowed mackerel and herring fishermen to 'bank' and rollover a higher proportion of their fishing quota in 2014 to be used in 2015.The EU Fisheries council agreed to bank 25 per cent of 2014 quota – up from the standard 10 per cent – and roll it over for use in 2015, leading to greater stability for fishermen.
The UK food chain is now worth a record £103 billion to the UK economy and employs one in eight people.
Notes to editors
Exports of mackerel increased by 33% in 2014 compared to 2013

The Russian Federation introduced a ban on imports of agriculture and fisheries products by Presidential decree on 6 August 2014.

For the UK, the sector most heavily affected was fisheries. In 2013 we exported a total of £18.1 million in value of fisheries products to Russia, of which £15.8 million was of mackerel products. £16million of this £18.1m total was from Scottish exports.

For further information please contact Defra's News and External Communications office on 0207 238 6751 or 0345 051 8486.
Published 26 March 2015