News story
Making the case for UK medicines manufacturing
2 March 2016: Joint MHRA and ABPI conference.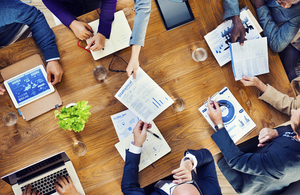 About the conference
This joint event is run by the Medicines and Healthcare products Regulatory Agency (MHRA) and the Association of the British Pharmaceutical Industry (ABPI).
For senior leaders and decision makers with strategic responsibility for securing, developing and future-proofing manufacturing networks in the pharmaceutical industry.
It will illustrate, through evidence based examples, the benefit of the manufacturing "ecosystem" in the UK.
See more information about the course and register
Gerald Heddell, Director of Inspection, Enforcement and Standards, MHRA said:
Regulation is often misunderstood. Here in the UK it's progressive, pragmatic and supportive and crucial in making the UK competitive in a global market.

'Making the case for UK medicines' offers a great opportunity for senior leaders in manufacturing to find out more about what we and wider UK government can offer.
Ian McCubbin, Senior Vice President, North America, Japan & Global Pharma Supply – GMS, GlasxoSmithKline said:
The UK manufacturing "ecosystem" offers a hugely compelling environment.

Our skilled workforce, pragmatic regulation and favourable tax options add up to ensure that facilities based in the UK should be part of every leading pharmaceutical company's manufacturing network, but we are at a cross road and we will need to work together to succeed.
Benefits of attending
This event is your opportunity to:
meet and network with like-minded peers
participate in tackling the sector's challenges head on to shape its priorities
learn about the UK's pragmatic and supportive regulatory environment
understand how to utilise a skilled workforce
discover more about the fiscal flexibilities that help make the UK a competitive proposition for manufacturing in the pharmaceutical and service industry
Details
Dates and location
2 March 2016: 9:00 AM to 4:30 PM
The Royal Society of Medicine
1 Wimpole Street
London
W1G 0AE

Published 18 January 2016