Press release
Major reform will help hundreds of thousands of young people get good jobs
Young people without good GCSEs in English and maths must continue to study the subjects.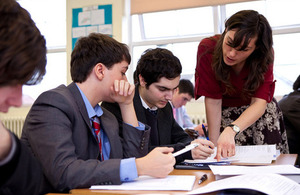 Thousands more young people will have the chance to leave school, college or training with a good grasp of English and maths after the introduction today of a major government reform.
From this term, all pupils who fail to achieve a good pass – C or better – in English or maths GCSE by the time they finish secondary school must continue to study the subjects in post-16 education until they get these qualifications.
The reform was proposed in 2011 by Professor Alison Wolf in her ground-breaking review of vocational education, and backed by Education Secretary Michael Gove.
Professor Wolf highlighted the thousands of young people who leave school or college without good English and maths.
She said it was "shocking" that the system of funding schools and colleges post-16 "actively discouraged 16- to 19-year-olds from catching up with their English and maths."
For young people aged 19 in 2012:
285,000 had left secondary school age 16 without a C or better in both GCSE English and maths
by the age of 19, 255,000 still did not have a C or better in both GCSE English and maths
This was largely because:
only 21% of the 285,000 who had not achieved a C or better in English GCSE at 16, then studied the qualification afterwards
only 23% of those who had not achieved a C or better in maths GCSE at 16, then studied the qualification afterwards
The move will help address concerns that standards of literacy and numeracy among many school and college leavers are not good enough.
Education Secretary Michael Gove said:
Good qualifications in English and maths are what employers demand before all others. They are, quite simply, the most important vocational skills a young person can have. Young people must be able to demonstrate their understanding of these subjects.
Professor Alison Wolf said:
Good English and maths grades are fundamental to young people's employment and education prospects. Individuals with very low literacy and numeracy are severely disadvantaged in the labour market.

I made a number of recommendations in my report – this is the single most important and I am delighted to see it implemented.

It will have a hugely positive impact on the ability of hundreds of thousands of young people to get good jobs.

Every other country in the developed world concentrates on improving the language and maths skills of its post-16 students, and so should England. Recognising the central place of English and maths skills in society is long overdue.
Mike Harris, head of education and skills policy at the Institute of Directors (IoD), said:
The fact that hundreds of thousands of young people have not achieved good qualifications in English and maths by the age of 19 is both socially damaging and economically unsustainable. It should also be a national wake-up call.

The competiveness challenge that the UK faces is global and unrelenting. Increasing education standards is extremely important to businesses, and ensuring that all young people leave education literate and numerate is employers' number one priority for improving the education system.

The IoD strongly supports the emphasis the government is placing on addressing this – it is absolutely essential.
Those who have not achieved a C or better in GCSE maths or English will ideally study GCSEs. However, they may take other qualifications – including functional skills and free-standing mathematics qualifications accredited by Ofqual – as a stepping stone to GCSE study. This will become a condition of funding for colleges from 2014. A new 16 to 19 funding formula ending the link between funding and qualification success rates comes in this month (September). This will remove the perverse incentives that encouraged some sixth-form institutions to enter students for easier qualifications, or less challenging subjects.
Attainment in English and maths by sixth-form students who did not manage good GCSE passes in these subjects will also be reported in reformed performance tables.
Notes to editors
The government's response to Professor Alison Wolf's report is available on GOV.UK.
Professor Wolf's review is available on GOV.UK.
Professor Wolf is the Sir Roy Griffiths Professor of Public Sector Management at King's College London, and specialises in the relationship between education and the labour market. She has a particular interest in training and skills policy, universities, and the medical workforce. The latter is particularly appropriate to the chair she holds, established in memory of an influential government adviser on medical management. She has been a specialist adviser to the select committee on education and skills and is the council member for the UK on the Council of the United Nations University.
The analysis of post-16 English and maths study is based on those in state schools at age 15.
DfE enquiries
Central newsdesk 020 7783 8300
General enquiries 0370 000 2288
Published 2 September 2013