Major international study shows England's 15-year-olds performing poorly in mathematics, science and reading
Michael Gove comments on the Programme for International Student Assessment (PISA) study of schools systems from around the world.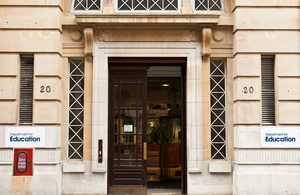 Michael Gove has today responded to the publication of the 2009 Programme for International Student Assessment (PISA) report which shows England continuing to slip in its international standing in mathematics, science and reading for 15-year-olds.
The report says that the best education systems around the world
recruit and develop the best teachers
allow greater freedoms for schools and leaders
have clear standards, high expectations, and external exams
have effective identification and sharing of best practice
have clear, transparent and proportionate assessment and accountability systems
These are the very policies we are taking forward in our white paper, learning from the best of what works from around the world and applying it here.
Secretary of State for Education Michael Gove said:
Today's PISA report underlines the urgent need to reform our school system. We need to learn from the best-performing countries.
Other regions and nations have succeeded in closing the gap and in raising attainment for all students at the same time. They have made opportunity more equal, democratised access to knowledge and placed an uncompromising emphasis on higher standards all at the same time. These regions and nations - from Alberta to Singapore, Finland to Hong Kong, Harlem to South Korea - should be our inspiration.
While each of these exemplars has their own unique and individual approach to aspects of education, their successful systems all share certain common features. Many have put in place comprehensive plans for school improvement which involve improving teacher quality, granting greater autonomy to the front line, modernising curricula, making schools more accountable to their communities, harnessing detailed performance data and encouraging professional collaboration. It is only through such whole-system reform that education can be transformed to make our nation one of the world's top performers.
England has continued to fall in the PISA rankings, meaning that in just nine years we have dropped from 7th to 25th in reading, 8th to 27th in mathematics and 4th to 16th in science. We have been overtaken by countries such as Poland, Iceland and Norway. This is despite England spending far more on education than comparable nations such as Germany.
And the report worryingly shows that England has relatively high numbers of low-performing pupils compared to countries like Australia, Canada and Finland. We are also less successful at overcoming the effects of social background than countries such as Canada and Japan, meaning that the poorest children in England are up to 2 full years behind their wealthier peers.
Schools minister Nick Gibb added:
I'm concerned that almost 40% of pupils in England never read for enjoyment. The difference in reading ability between these pupils and those who read for 30 minutes per day was equivalent to a year's schooling.
By far the most popular activities recorded for our 15-year-olds involved communication either through email or online chat. Of course this has its place and it's good that our young people have these skills in the computer age, but we cannot allow our youngsters to neglect the basic hobby of picking up a book and reading it simply for the enjoyment of it.
We need to reform English. The great tradition of our literature should be at the heart of school life. Our literature is the best in the world and we should be proud if it. But thousands of children - including some of our very brightest - leave school unable to compose a proper sentence, ignorant of basic grammar, incapable of writing a clear and accurate letter. We will change this as an absolute priority.
The most striking high performer is the newcomer to PISA, Shanghai China, which tops the tables across all three subjects. Their pupils are a full two-and-half years ahead of ours in mathematics.
Related links
PISA 2009: achievement of 15-year-olds in England
Notes to editors
The full report, including a UK note, can be found on the OECD website. Further details on England's performance in the assessments can be found on the NFER website.

OECD PISA has taken place every three years since 2000. It assesses the knowledge and skills of pupils coming towards the end of compulsory schooling (Year 11 equivalent) in reading, mathematics and science, using specially developed tests. Participating pupils also complete a background questionnaire which yields data about their socio-economic background, study habits and attitudes to reading, while headteachers complete a questionnaire about their schools.

PISA 2009 focused on reading. The study was carried out in England on behalf of the Department by the National Foundation for Educational Research (NFER). A total of 4,081 pupils across 165 schools in England participated, including independent schools and academies in proportion to their numbers nationally.

The headline results for England are:
Subject 
Rankings for England 
 
2000 (32 Countries)
2006 (57 Countries)
2009 (65 Countries)
Reading
7th
17th
25th
Mathematics
8th
25th
27th
Science
4th
14th
16th
Percentages of lowest-performing pupils for England:
2009:
Reading: 18% are below level 2
Mathematics: 20.2% are below level 2
Science: 15% are below level 2
This compares in reading to:
Finland 8.1%
Canada 10.3%
Korea 5.8%
In 2006 (England):
Reading: 18.9% were below level 2
Mathematics: 19.9% were below level 2
Science: 16.7% were below level 2.
Key quotes from the report:
Recruit and develop the best teachers
From the UK briefing note, para 76:
Effective school systems require the right combination of trained and talented personnel, adequate educational resources and facilities, and motivated students ready to learn. But performance on international comparisons cannot simply be tied to money, since only 7 OECD countries spend more per student than the United Kingdom. Among the successful PISA countries, Canada, Finland and Shanghai-China invest the money where the challenges are greatest rather than making the resources that schools get a function of the wealth of the local communities in which schools are located, and they put in place incentives and support systems that attract the most talented school teachers into the most difficult classrooms.
Vol IV, p106
The bottom line is that the quality of a school system cannot exceed the quality of its teachers.
Allow greater freedoms for schools and leaders
Have clear standards, high expectations, and external exams
Vol IV, p105
In countries where schools have greater autonomy over what is taught and how students are assessed, students tend to perform better.
…schools that enjoy greater autonomy in resource allocation tend to do better than those with less autonomy.
From the UK briefing note under, para 30:
Results from PISA suggest that, across OECD countries, schools and countries where students work in a climate characterised by high performance expectations and the readiness to invest effort, good teacher-student relations, and high teacher morale tend to achieve better results, on average across countries.
From Vol 1V, p104/105
Setting standards and showing student how to meet them matters.
Most high-performing countries have developed world-class academic standards for their students and almost all have incorporated those standards into a system of external examinations that are used to construct clear paths into the workforce and good jobs or to the next stage of education or both. Indeed, PISA shows that the existence of such external examinations is positively associated with overall performance of school systems.
Have effective identification and sharing of best practice
From the UK briefing note, para 57
Many of the successful countries have developed elaborate support systems to foster the motivation of the full diversity of students to become independent and lifelong learners. They tend to train teachers to be better at diagnosing learning issues so that they can address them by personalised instruction methods. Second, they help individual teachers to become aware of specific weaknesses in their own practices, which often means not just creating awareness of what they do but also changing the underlying mindset. Third, they then seek to provide their teachers with an understanding of specific best practices and, last but not least, motivate them to make the necessary changes with instruments that go well beyond material incentives.
Have clear, transparent and proportionate assessment and accountability systems
From Vol 1V, p105
Autonomy matters when combined with Accountability
Within countries where schools are held to account for their results through posting achievement data publicly, schools that enjoy greater autonomy in resource allocation tend to do better than those with less autonomy. However, in countries where there are no such accountability arrangements, the reverse is true.
In countries that use standards-based external examinations, students tend to do better overall.
DfE enquiries
Central newsdesk - for journalists 020 7783 8300
General enquiries - for members of the public 0370 000 2288
Published 7 December 2010