News story
Major boost to Birmingham as Aston Webb Boulevard opens
Aston Webb Boulevard, a new Selly Oak relief road, has been opened.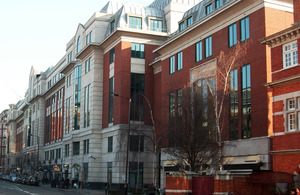 A new relief road which will tackle congestion and improve road safety in Selly Oak was opened today (13 October 2011) by Transport Minister Norman Baker.
The Selly Oak relief road - to be known as Aston Webb Boulevard, was built with a government contribution of more than £38 million towards the total costs of £61 million. It is expected to cut through-traffic from the existing A38 by half, helping to revitalise Selly Oak centre by creating a safer and less congested environment for cyclists, pedestrians and people arriving by public transport. It will also become the main route to the new Queen Elizabeth Hospital.
Transport Minister Norman Baker said:
I am very pleased to be able to open the new Aston Webb Boulevard today. It is an important scheme for Birmingham, which will bring huge pluses both for people living locally and those travelling through the area.

Not only will the scheme provide substantial benefits to the local community by removing a large amount of traffic from the centre of Selly Oak, it will also provide a better route for bus services and make it easier and safer for residents to walk and cycle.

This scheme has also been the catalyst for major investment in the Selly Oak area including the new Queen Elizabeth Hospital, so it ticks both boxes of creating growth and cutting carbon, which are my two transport priorities.
The name for the new road - Aston Webb Boulevard - was chosen by Birmingham residents. Sir Aston Webb was a prominent 19th century architect who designed the Great Hall on the University of Birmingham campus which overlooks the new road.
Councillor Timothy Huxtable, Cabinet Member for Transport, Environment and Regeneration, said:
By both easing congestion in Selly Oak and greatly improving transport links and business opportunities along the new road, this project will bring great benefits to local motorists, residents and businesses alike.

Logistically, building the road across the path of both the canal and railway has certainly proved a major engineering challenge for the Council and its construction partner Birse Civils Ltd, but I am glad to say it is a challenge we have risen to whilst keeping disruption to trains and boats to an absolute minimum.
Further information
The scheme, promoted by Birmingham City Co., comprises a new 2.5 km road to the west of the A38 Bristol Road and Selly Oak shopping centre, located along a major arterial route into Birmingham from the M5 and the south west. It also involves improvement works to the existing A38, including a reduction in carriageway width, a new bus interchange, bus priority measures and better provision for cyclists and pedestrians.
It will also provide the principal access to the new £500 million, Queen Elizabeth Hospital.
The scheme was fully approved by ministers in March 2006.
Roads media enquiries
Media enquiries 020 7944 3021
Out of hours media enquiries 020 7944 4292
Switchboard 0300 330 3000
Published 13 October 2011