Press release
Major boost for Welsh language TV as Government commits additional investment for S4C
Welsh broadcaster S4C is set to benefit from a cash injection of more than ten million pounds, helping to secure its future, Government has announced today.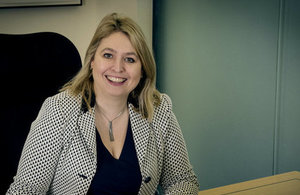 £10m Government relocation loan for the world's only exclusive Welsh language broadcaster
800 jobs to be created, £11m boost to local economy, and new co-location arrangement with BBC Cardiff
£350,000 funding from Government will enable broadcaster to upgrade its equipment
The Government has approved a loan of £10 million for the relocation of the channel's headquarters to Carmarthen, which will create more than 800 jobs in the local area. This cash will also mean that technical facilities can be shared with the BBC in Cardiff, reducing the S4C's overhead costs and increasing its creative pool of talent. And in an independent economic assessment by the University of Wales, it has been revealed that the move will also deliver an estimated £11 million boost to the local Carmarthen economy.
S4C, the fourth oldest television channel in the UK, will also receive Government funding of £350,000, enabling the broadcaster to carry out a significant upgrade on its technical and IT equipment. This will ensure that the channel is up-to-date, will continue to reach global audiences and remains relevant in an increasingly competitive broadcasting market.
Karen Bradley, Secretary of State for Culture, Media and Sport said:
We are making Britain a country that works for all, and are committed to securing the future of Welsh language broadcasting. S4C has a proud history of showcasing some of the best of British talent and catering to Welsh-speaking audiences around the world.
S4C has a rich broadcasting history, having carved a stellar reputation for commissioning world-class animation, documentaries and dramas - such as Hinterland and Fferm Ffactor.
This money will not only ensure S4C continues to prosper, but also that the channel is equipped to compete globally.
Huw Jones, Chair S4C Authority:
S4C welcomes the Government's commitment to securing S4C's future and the package of measures announced today, including loan funding for S4C.
The loan of £10m, which will be repaid by S4C to DCMS over a period, will be used by S4C for two specific purposes: to contribute towards the costs of technical equipment associated with S4C's proposed move to shared broadcasting services with BBC Cymru in their new headquarters in Cardiff in 2019 and also to provide a bridging facility to enable S4C's advance rent payment to the University of Wales, Trinity St David for the lease at Yr Egin in 2018 until S4C's current headquarters in Llanishen are sold.
S4C contributed £114 million to the Welsh economy in 2015/16 and the channel recently reported that its current viewing figures are at their highest point in nine years, attracting 629,000 viewers a week on average.
Government wants this success to continue, and as part of Government's commitment to preserving and giving Welsh language television a global platform, as well as ensuring the sustainability of S4C, it will shortly be launching an independent review of the channel. The review will look at the remit, governance and funding of S4C so that the broadcaster can continue to meet the needs of Welsh speaking audiences in the future and invest in high-quality programming. The additional funding announced today will ensure financial stability throughout the review process.
Alun Cairns, Secretary of State for Wales, said:
This investment puts S4C on a secure footing for years to come, guaranteeing TV viewers can continue to enjoy a high quality range of Welsh language TV programmes. The UK Government is absolutely committed to supporting and promoting the Welsh language, and today's investment is solid proof of that.
There are huge spin-off benefits to Carmarthenshire with hundreds of jobs being created locally and millions going into the region's economy. I look forward to S4C taking its place at new state-of-the-art studios and entertaining, challenging and informing viewers as part of our national conversation.
Notes to Editors
Government will provide an additional £350,000 of capital funding to S4C for 2017/18. The position will be reviewed mid-year and Government will consider whether further funding is required in light of the progress/outcome of the S4C review.
Government is also investing in S4C's long-term future with a £10m loan to enable the relocation of S4C's headquarters to Carmarthen and co-location of studio facilities with the BBC in Cardiff.
The majority of S4C's funding comes from the TV licence fee (£74.5m a year).
The Government has secured circa £80m of funding per annum for S4C until the end of the current spending review period, delivered through a combination of licence fee and grant-in-aid funding.
Under the plans confirmed by the UK Government, the BBC also maintains its commitment to provide 10 hours a week of Welsh language programming to S4C and to build on the strong, existing partnership between the two broadcasters which supports the provision of Welsh language television services which meet the needs and expectations of viewers.
Published 20 March 2017