Major boost for East Anglia as government confirms ambitious 'Norwich in 90' plans
Plans for 90-minute journeys between Norwich and London, state of the art trains and 180 extra services a week in next East Anglia rail franchise.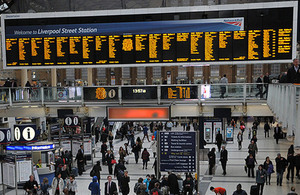 'Norwich in 90' proposals to be taken forward as government publishes its ambitious requirements for the next East Anglia rail franchise
host of other improvements planned including state of the art trains, 180 extra services a week and free Wi-Fi
bidders will also be required to hit challenging customer service targets
Passengers will be able to travel between Norwich and London in just 90 minutes as part of a massive boost to East Anglia's railway that will also bring modern, state of the art trains, 180 extra services a week between the region's cities and towns, and better journeys.
The ambitious plans to transform travel for millions of rail passengers have been published today (17 September 2015) in the government's Invitation to tender for the East Anglia franchise.
Bidders for the next franchise will be required to introduce at least 2 90-minute services in each direction running between Norwich and London every weekday. Slashing journey times was a key recommendation of the government-backed Great Eastern Mainline Taskforce and will help to boost long-term economic growth in the region and beyond.
The next operator of the franchise will also be required to:
introduce 180 additional weekly services, running on Mondays to Sundays to stations including Cambridge, Norwich, Stansted Airport, Southend and London Liverpool Street
dramatically improve the quality of trains running on East Anglia's network, providing a modern service with state of the art trains - extra points will be awarded to bidders who include plans to trial new technologies in rolling stock
bring in free Wi-Fi for all passengers across the network
meet challenging targets to reduce crowding on the busiest services
put forward proposals for at least 1 additional 60-minute service per day in each direction between Ipswich and London
In addition, for the first time in a franchise, the government will directly set challenging customer service targets for the operator and will monitor progress through independent 'mystery shopper' exercises and passenger surveys, with the operator expected to show clear year-on-year improvements. A financial penalty will be imposed if targets are not met. Until now, it had been up to the East Anglia operator to set its own targets for customer service and to report back to government.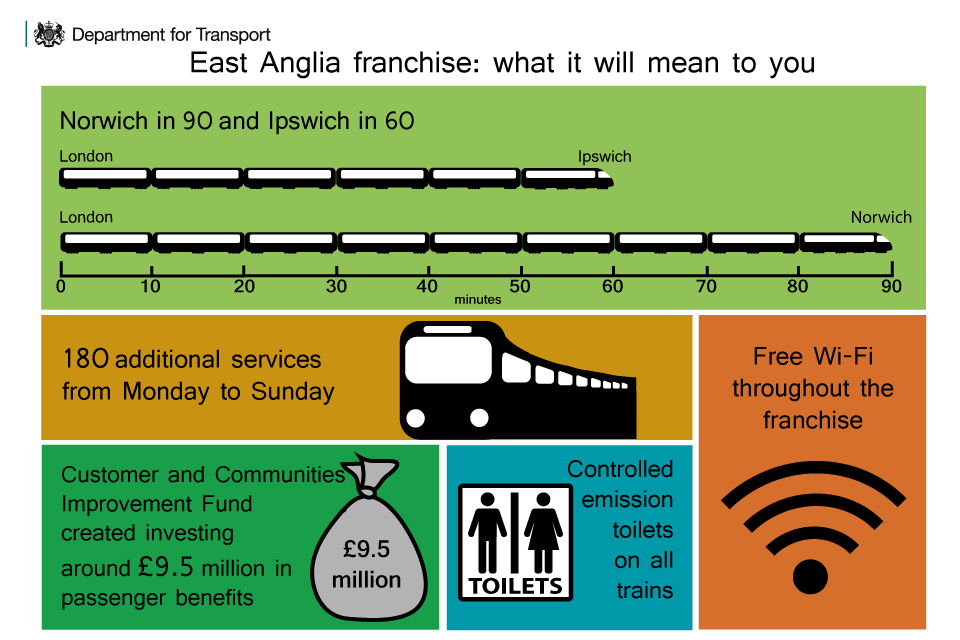 Rail Minister Claire Perry said:
For too long, passengers in East Anglia have not had the high-quality rail services that they deserve. Our ambitious requirements will change that by making journeys significantly better than they are now. These plans will also ensure that East Anglia finally has a rail network that supports its growing economy.

We have set out what we want to see bidders deliver as a minimum, but we are looking for bids that exceed our expectations wherever possible. It is now for the industry to step up to the challenge and tell us how they will make this happen.
Bidders will also be required to provide plans to end the practice of flushing waste onto the tracks by fitting controlled emission toilets to all trains. They will also be expected to invest heavily in improving stations, as well as creating a £9.5 million 'Customer and Communities Improvement Fund' to benefit passengers and the local community.
More than 135 million journeys are made on East Anglia's rail network every year, with around 4,300 trains every week serving London commuters, the regional hubs of Cambridge, Ipswich and Norwich, leisure travellers to Stansted Airport and coastal and rural resorts around the region.
Three train operators have been shortlisted to compete to take over the franchise:
a joint venture between Abellio and Stagecoach
First Group
National Express
The government expects to announce the successful bidder in summer next year, with the new nine-year franchise due to start from October 2016.
The Invitation to tender has been published alongside the responses to a government consultation completed earlier this year.
Related East Anglia franchise 2015 documents
Rail media enquiries
Media enquiries 020 7944 3021
Out of hours media enquiries 020 7944 4292
Switchboard 0300 330 3000
Published 17 September 2015